Auckland central urban water walk
23 May. Explore some of Auckland Central's rich water stories.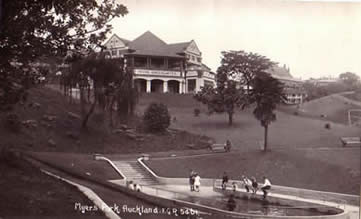 The city of Auckland was settled in a location that was rich in resources, not least the presence of numerous sources of fresh water. As the city grew and urbanised, these waterways and our connection to them were altered, often in dramatic ways.
Join us for a walk through the Queen Street valley to explore the hidden urban water of the central city. We will start at St Kevins Arcade on K Rd, walk down the valley through Myers Park and Aotea Square to Queen Street, Britomart and on to Wynyard Quarter. Along the way we will stop and hear from speakers on a number of interesting points: the existence of the Waihorotiu Stream beneath Queen Street, the history of Aotea Square, upcoming changes for Queen Street with the Access for Everyone Initiative and the existence of fresh water springs. After a quick stop at the site of Auckland's first well at The Bluestone Room, we will continue to discover more about the old Auckland shoreline pre-European arrival and the challenges of building a stormwater network on reclaimed land. The walk will end at the Sustainable Coastlines Flagship education centre where we will hear about their new projects alongside drinks and nibbles. Thanks to our Event partner WSP Opus taking leadership in integrated water solutions in New Zealand.
ORGANISATION
The Sustainability Society
VENUE/DATE
Auckland City
4:30pm Thu 23 May, 2019 - 7:00pm Thu 23 May, 2019
---