BWB Talks: #NoFly National Tour (Wellington)
What happens when a leading New Zealand scientist (and frequent traveller) rules out flying for a year?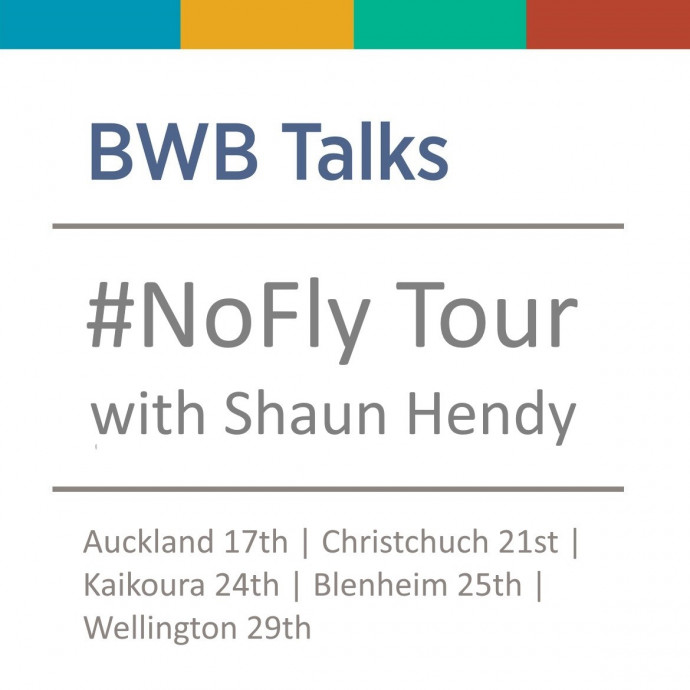 In the last two weeks of November, Shaun Hendy will travel around New Zealand by train, ferry and bus to deliver five public talks in connection with his recently published BWB Text, #NoFly: Walking The Talk on Climate Change – an honest account of one person's attempt 'to adapt' in the face of growing climate anxiety.
Join Shaun Hendy, Rebecca Priestley (chair) and panelists Raven Maeder and Grace Tualaulelei at the newly restored Public Trust Hall for the fifth public talk and discussion of Shaun's now six-stop, national #NoFly tour.
About the Speakers
Professor Shaun Hendy FRSNZ is the director of Te Pūnaha Matatini, a New Zealand Centre of Research Excellence hosted by the University of Auckland. Shaun teaches at the University of Auckland, and has been the receipt of numerous awards for his work.
Rebecca Priestly is an associate professor at the Centre for Science in Society at Victoria University of Wellington. She is an interdisciplinary scholar and creative non-fiction writer who works at the boundary between science and the humanities.
Raven Maeder is a national organizer for School Strike 4 Climate in Aotearoa, the current Chair of the UNESCO Aotearoa Youth Leaders, and served on the Victoria University of Wellington Students' Association as Campaigns Officer in 2017.
Grace Tualaulelei is a second-generation New Zealand born Sāmoan from Wellington and an environmental advocate with a desire to build movements that counter the drivers of climate change: she was a youth delegate at COP24 – the 2018 United Nations Climate Change Conference.
ORGANISATION
Bridget William Books
VENUE/DATE
Public Trust Hall, 131-135 Lambton Quay, Te Aro, Wellington
6:00pm Fri 29 November, 2019 - 7:00pm Fri 29 November, 2019
---