Cafe Scientifique: Exploring Tiny Worlds
What happens in cells and materials at the molecular level or nanoscale? How can we use these properties to make new things?

Join Upulie Divisekera to find out how cells work and how we can mimic the things that they do and create new kinds of materials to treat disease.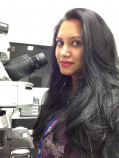 SPEAKER
Upulie Divisekera
University of Auckland/ Monash University
ORGANISATION
Centre for Science in Society | Victoria University of Wellington
VENUE/DATE
The Arborist, 166 Willis Street
5:30pm Mon 6 May, 2019 - 7:00pm Mon 6 May, 2019
---