Cafe Scientifique - Stayin' alive: physiological coupling of a living, leafless kauri stump to intact neighbours
Within a shrouded forest in the Waitakere Ranges, a kauri tree stump keeps itself alive by holding onto the roots of neighbouring kauri trees, exchanging water and resources through the grafted root system.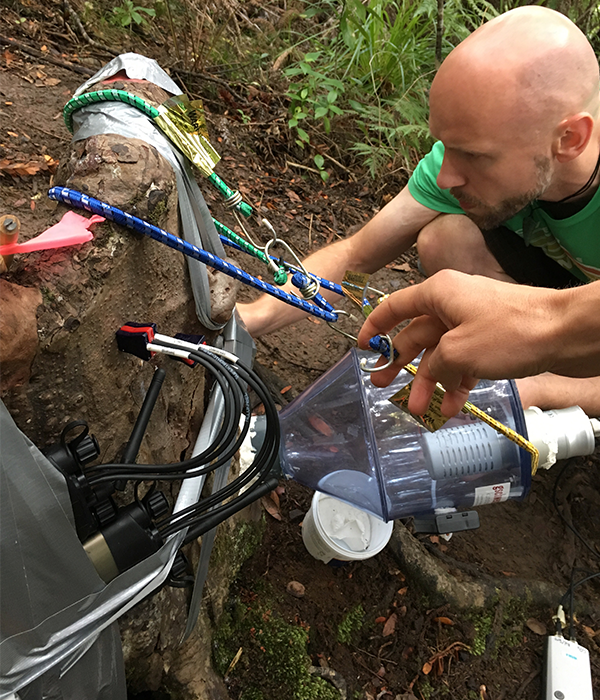 Hot off the press, AUT's latest research published in iScience, details how surrounding trees keep tree stumps alive, possibly in exchange for access to larger root systems. The findings suggest a shift from the perception of trees as individuals towards understanding forest ecosystems as "superorganisms".
Dr Martin Bader is an ecologist with a research focus on plant ecology, plant-insect and plant-pathogen interactions and global change biology with a strong background in modern statistical modelling techniques. He received his PhD from the University of Basel, Switzerland, investigating the effects of elevated atmospheric CO2 on forest trees. After a postdoctoral stint in Western Australia, he joined the NZ Forest Research Institute (Scion) in a dual role as plant ecologist and biostatistician before joining AUT as a senior lecturer in ecology in 2017. His recent research focuses on plant water and carbon relations, kauri dieback and the ecology of native and invasive insects.
This event brought to you by Auckland Museum Institute in conjunction with Auckland Museum and Royal Society Te Apārangi. No bookings necessary.
ORGANISATION
Auckland Museum Institute
VENUE/DATE
Auckland
Horse & Trap, Mt Eden
6:30pm Wed 25 September, 2019 - 7:30pm Wed 25 September, 2019
---