Eat Like a Champion
Professor Teresa Ann Davis will deliver a free public lecture making the case for the importance of animal-derived protein in a healthy diet.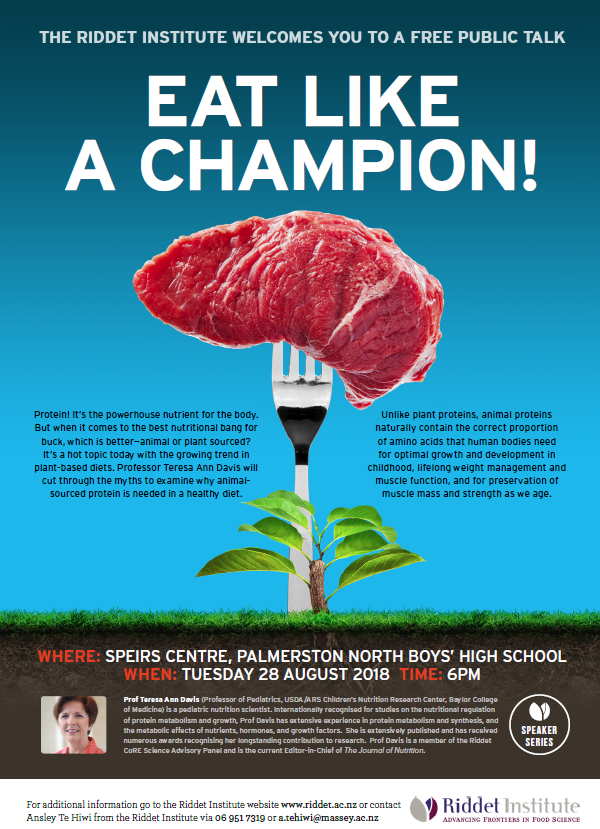 Animal based foods are an important part of our food culture and protein from animal sources contain the correct proportion of amino acids that we need for good health. Plant proteins are low in certain amino acids and are less digestible than animal proteins.
Professor Davis will discuss the latest research on the importance of protein in the promotion of optimal growth and development of children, weight management in adults, and the preservation of muscle mass and strength in healthy aging. She will also discuss how the equal distribution of dietary protein in meals over the course of the day is critical for optimizing muscle function.  
SPEAKER
Teresa Ann Davis
Professor of Pediatrics, Baylor College of Medicine, USA
ORGANISATION
Riddet Institute, Massey University
VENUE/DATE
Palmerston North Boys' High School, 263 Featherston Street, Palmerston North
6:00pm Tue 28 August, 2018 - 7:00pm Tue 28 August, 2018
---