Days of Ice: Immersive Antarctic - visit the ice in VR
Have you ever wanted to take an adventure to the world's last great wilderness? This new immersive Virtual Reality experience allows you to explore the depths of Antarctica without even stepping on a plane.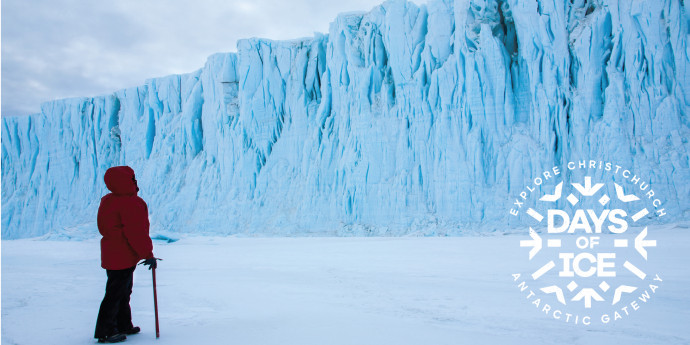 Photo by Anthony Powell
As part of the week-long Days of Ice event in Ōtautahi Christchurch, experience Antarctica like never before by immersing yourself virtually within the frozen continent. This event is brought to you by multi-award-winning filmmaker Anthony Powell and University of Canterbury's Professor Rob Lindeman.
Anthony and Rob will bring together 360-degree images and video from their travels to Antarctica. Through Virtual Reality headsets, you will be transported to Antarctica where you'll experience the expansive frozen views, serene quiet and remarkable wildlife.
If you've ever wanted to visit Antarctica, but haven't (yet) found a way to get there, this is the next best thing.
COVID-19
This event will only run under Alert Level 1.
We will subscribe to the following practices at Days of Ice to ensure good health, hygiene and safety at the events:
Practicing social distancing where applicable
Contact tracing through guest registration and QR code scanning
Hand santise regularly
Wear a mask if you would like to
Stay home if you feel unwell
We ask that our guests also join us in adhering to the above guidelines.
About the hosts
Professor Rob Lindeman is the director of HITLab (Human Interface Technology) NZ at the University of Cantebury. HITLab focusses on "utilizing new and emerging technologies such as VR, AR, human-robot interaction, remote collaboration, and applied immersive game design" to better understand human behaviour and to enhance our daily lives.
Anthony Powell is renowned for documenting his experiences at the bottom of the world, having spent over many trips, more than an entire year living in Antarctica and filming the environment there. His film 'Year On Ice' showcases his experiences and brings to life an Antarctica that many have never seen before.
ORGANISATION
The University of Canterbury's HITLab NZ & Royal Society Te Apārangi
VENUE/DATE
University of Canterbury
20 Kirkwood Avenue
Upper Riccarton
Christchurch 8041
Tue 13 October, 2020 - 5:00pm Tue 13 October, 2020
---