Inside the Nobel
Hosted by the Otago Institute for the Arts and Sciences, various speakers give a short presentation about the Nobel Prize in each of the disciplines for 2020 and why it is important.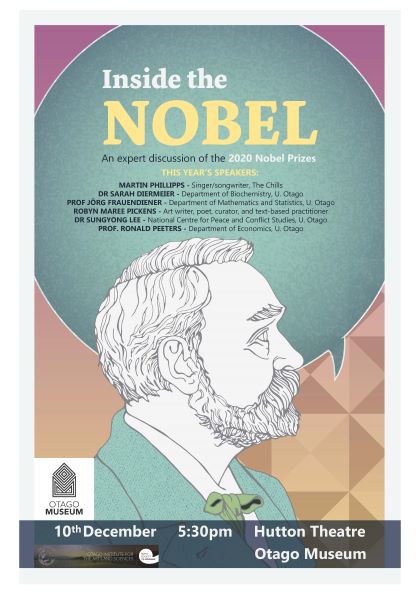 The format for the lecture will be six prizes, six speakers, six minutes each. Six speakers will give a quick summary of the 2020 prize and the impact of the research leading to the prize.
This year's speakers are:
Martin Phillipps - Singer/songwriter, The Chills
Dr Sarah Diermeier - Department of Biochemistry, University of Otago
Professor Jorg Frauediener - Department of Mathematics and Statistics, University of Otago
Professor Robyn Maree Pickens - Art writer, poet, curator, and text-based practitioner
Dr Sungyong Lee - National Centre for Peace and Conflict Studies, University of Otago
Professor Ronald Peters - Department of Economics, University of Otago
Topics will include Peace, Literature, Economics, Medicine/Physiology, Chemistry and Physics. Speakers cover a broad range of scientists, economists, a poet and a musician.
ORGANISATION
Otago Institute for the Arts and Sciences
VENUE/DATE
Hutton Theatre
Otago Museum
419 Great King Street
Dunedin, New Zealand
5:30pm Thu 10 December, 2020
---