More Home Truths - WELLINGTON
Rutherford Lecture with Distinguished Professor Philippa Howden-Chapman FRSNZ on the impact of housing research on health and wellbeing policy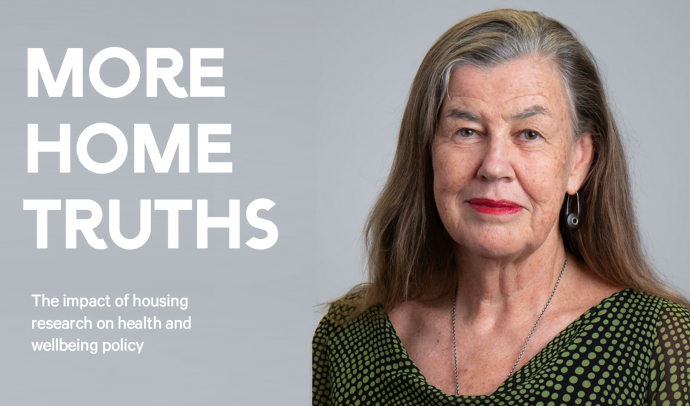 Continuing her quest for healthy homes and housing affordability, Distinguished Professor Philippa Howden-Chapman will deliver the prestigious Rutherford Lecture.
Under Professor Howden-Chapman's inspirational leadership, He Kāinga Oranga's research has shown how straightforward housing improvements to cold, damp and unsafe conditions can significantly reduce rates of infectious, respiratory and cardiovascular disease and deaths, particularly for children and older people. This research and its studies have influenced public policy innovation and implementation, including the Winter Fuel Payment and the Healthy Homes Guarantee Act, and been rated as outstanding examples of housing intervention research internationally.
In this lecture, Professor Howden-Chapman focuses on the priorities for housing at a time of cost-of-living pressure and stretched markets, and recent weather events in Aotearoa New Zealand.
About Distinguished Professor Philippa Howden-Chapman CNZM QSO FRSNZ
Philippa Howden-Chapman, sesquicentennial distinguished professor of public health at the University of Otago, Wellington, is co-director of He Kāinga Oranga/ Housing and Health Research Programme, Director of the New Zealand Centre for Sustainable Cities and the WHO Collaborating Centre on Housing and Wellbeing. She conducts randomised community housing trials in partnership with local communities, which have had a major influence on housing, urban policy and health. Her work focuses on reducing inequalities in the determinants of health and wellbeing.
She is a director on the board of the Crown Agency Kāinga Ora - homes and communities, a Fellow of Royal Society Te Apārangi and former chair of the International Science Council Committee, Urban Health and Wellbeing: a systems approach. She has received numerous awards, including the Prime Minister's Science Team Prize and the Royal Society Te Apārangi Rutherford Medal. She was awarded a Queen's Service Order and made a Companion of the New Zealand Order of Merit for contributions to public health.
About the Rutherford Medal
Philippa Howden-Chapman and He Kāinga Oranga/Housing and Health Research Programme, including Julian Crane, Michael Keall and Nevil Pierse, were awarded the 2021 Rutherford Medal for ground-breaking research that has quantified the effects of housing interventions on occupants' health and wellbeing, and informed legislation and policy.
The Rutherford Medal is a prestigious award instituted by Royal Society Te Apārangi, at the request of the Government. Awarded annually, it recognises preeminent research, scholarship or innovation by a person or team in any field of engineering, humanities, mathematics, sciences, social science, or technology and comes with a prize of $100,000 from the Ministry for Business, Innovation and Employment, the New Zealand Government. Winners of the Rutherford Medal are invited to give the the Rutherford Lecture.
ORGANISATION
Royal Society Te Apārangi
VENUE/DATE
CHANGED VENUE: Old Government Buildings Lecture block
GBLT 1 – entrance via Whitmore or Stout St

6:30pm Wed 12 July, 2023 - 8:00pm Wed 12 July, 2023
---