Our Place
'Our Place' aims to showcase the beauty of Wanaka's local environment and use fun interactive learning and play to show how the land, water, flora, fauna, our climate, and us humans, are all connected.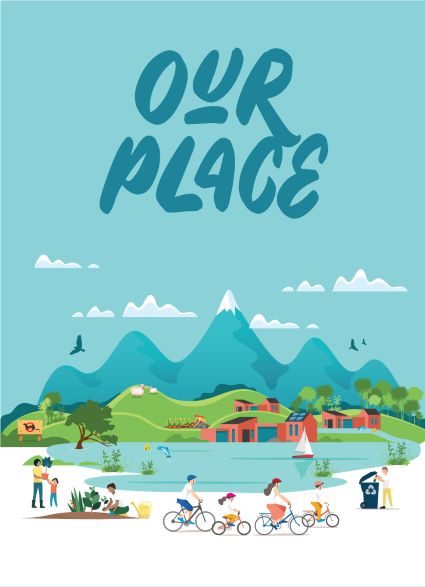 Over two days on 12-13th March 2021, Wānaka will hold its annual A&P Show. For the first time, a group of nine community-based organisations with environmental and community wellbeing goals are coming together under the banner of "Our Place".
The event will aim to educate young people and adults on how we can all act together to protect the environment, to make sure it endures for future generations and continues to support our community's wellbeing.
Our Place will focus on creating educational materials, displays and interactive installations, mostly aimed at young people and families. One of the key messages is to promote sustainability and how we can all reduce, re-use and recycle. To reduce waste and continue to promote the message after the show, digital educational assets will be available that can be easily shared by attendees.
Each of the organisations involved work toward goals focused on the protection of our environment, sustainability and connection to the community.
WAI Wānaka's vision is to safeguard and enhance water quality, ecosystem function and biodiversity within the Upper Clutha basin.
Te Kākano Aotearoa Trust is a community-based native plant nursery that specialises in propagating plants of local origin and uses these plants for localised native habitat restoration.
SUC Free Wānaka is a community led campaign to make our beautiful place free of the scourge that is single-use cups by 2022.
Grow Wānaka is a community food hub that diverts food scraps from landfill and uses them to build healthy soil and grow nutritious kai.

WAO (We Are One) aims to educate, inspire and enable New Zealand communities to accelerate towards a carbon-zero, regenerative future and beyond.
Kiwi Conservation Trust is Forest & Bird's young members group, connecting Kiwi kids to New Zealand's amazing wildlife and wild places.
Team Green from Mount Aspiring College is self-driven group of young students interested in taking action in the community on sustainability and environmental issues.
Backyard Trapping is focused on Predator Trapping in Upper Clutha's backyard Friends of Bullock Creek exists to protect, restore and enhance the environment of Bullock Creek from head waters to its entry point into Lake Wanaka.
In addition to the nine local community organisations, Otago Museum will join Our Place with their Tech Tent which shares activities on climate change.
ORGANISATION
Wanaka A&P show
VENUE/DATE
Showgrounds,
Wanaka
8:00am Fri 12 March, 2021 - 5:00pm Sat 13 February, 2021
---