2019 Gibbons Memorial Lectures: Quantum Computing
Weds 8-29 May
Gibbons Lecture Series 2019
Series of four talks exploring the topic of quantum computing.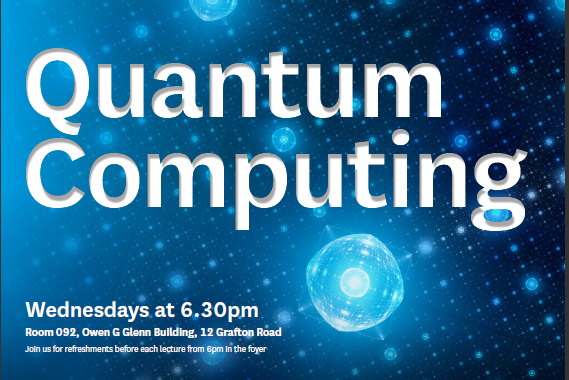 The Gibbons Lectures is an annual series of talks run by the University of Auckland's School of Computer Science, in partnership with IT Professionals New Zealand and the Auckland ICT Graduate School. The goal of each lecture is to describe detailed developments in a particular research area to a general but technical audience - from Computer Science students at all levels, to IT practitioners in other departments and outside the University. The theme of this year's series is Quantum Computing.  
Quantum Computing
What is quantum computing, what is the promise and what are the challenges?
Quantum computers are extremely complex machines that challenge almost everything we know about computing. Given their complexity, they are difficult to understand which, in turn, makes it difficult for us to understand their limits.
It is said they can crack all modern security algorithms and do immediate pattern recognition. If this is the case, what are the implications for not only computing but also wider society?
Quantum computing provides us with the opportunity to build new algorithms, and to rethink a lot of what has gone before.
Come along and hear the experts delve into this fascinating topic.
All lectures will be livestreamed
8 May | Quantum Computing: What it is and how we do it
Dr Michael Dinneen, School of Computer Science, University of Auckland
Chair: Deputy Dean Professor Douglas Elliffe
15 May | Cryptography after quantum computers
Professor Steven Galbraith, Department of Mathematics, University of Auckland
Chair: Dr Rizwan Azghar
22 May | Searching for the quantum frontier
Professor Michael Bremner, Centre for Quantum Software and Information University of Technology Sydney, and Australian Research Council Centre of Excellence for Quantum Computation and Communication Technology
Chair: Associate Professor Giovanni Russello
29 May | Panel discussion: The future of quantum computing
Professor Howard Carmichael, Department of Physics, University of Auckland
Professor Cristian Calude, School of Computer Science, University of Auckland
Moderator: Professor Gill Dobbie
ORGANISATION
School of Computer Science, University of Auckland
VENUE/DATE
Refreshments Level 0 Foyer, Lecture Room 092, Owen G Glenn Building, 12 Grafton Road, City Campus, University of Auckland
6:00pm Wed 8 May, 2019 - 7:30pm Wed 29 May, 2019
---