Rheumatology in Rotorua
Exploring what has been considered an unpopular and unscientific medical specialty.
Is it truly coincidental that at the time of Einstein's annus mirabilis, laying the foundations of quantum physics and demolishing Newtonian concepts of time and space, that Alfred Stanley Wohlman was building the Bathhouse in the small settlement of Rotorua, administered by the Department of Tourist and Health resorts? Or that when the Queen Elizabeth Hospital was established as the National Centre for Arthritis and Rheumatism in 1948, the world was on the brink of learning of new medications that would change the face of medicine?

And what was the role of Marmite, and indeed the United States Secret Service, in developing effective treatments for inflammatory disease?

Rheumatology has moved from a discipline involving palliative rehabilitation and limited intervention capabilities to being a specialty closely allied with immunology, at the forefront of inflammation and chronic disease. Dr John Petrie will present a personal perspective from the waters of Kerosene Creek.
More on the speaker
John is a Rheumatologist whose career includes 30 years at Rotorua's Queen Elizabeth Hospital. He trained in Auckland, graduating BSc and MBChB from Auckland University Medical School. After three years advanced training in rheumatology within New Zealand, he spent a further two years as the Dorothy Eden Fellow of the Arthritis and Rheumatism Council at Addenbrookes Hospital in Cambridge, England.

His primary clinical interest remains the diagnosis and holistic management of rheumatological conditions with an interest in chronic musculoskeletal pain. Outside of medicine he continues to harbour unrealistic aspirations to revive a career as a failed rock musician and to become a scratch handicap golfer.
Free entry for members – $5 donation for non-members
All welcome.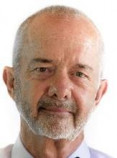 ORGANISATION
The Rotorua Branch of Royal Society Te Apārangi
VENUE/DATE
Rimu Room, Scion, 49 Sala Street, Rotorua
6:00pm Tue 10 March, 2020 - 7:00pm Tue 10 March, 2020
---