The MacDiarmid Institute's 2019 Regional Innovation Showcase - Wanaka
Come and hear MacDiarmid Institute scientists talk about how materials science is offering a greener future for our planet.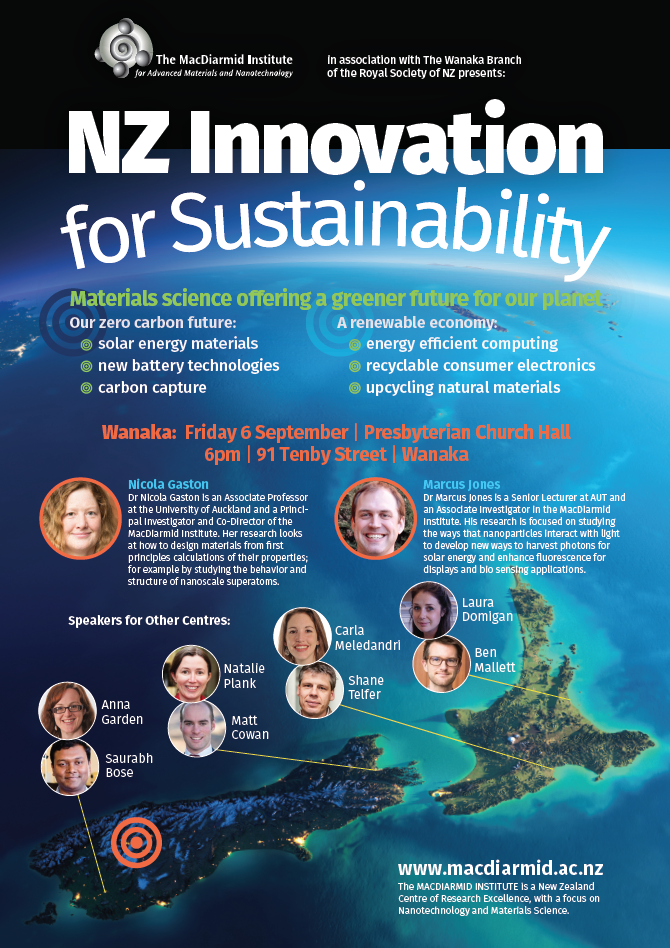 The MacDiarmid Institute's 2019 Regional Innovation Showcase will be coming to Wanaka on the evening of Friday 6th September and this year's theme is "NZ Innovation for Sustainability".
The 2018 IPCC report left us in no doubt that we need to act now and fast if we are to have any chance of mitigating changes to our climate. To reach the Government's Zero Carbon targets we'll need new materials and new technology based on those materials, that haven't been discovered yet. Our showcase will be looking at how we are working towards this.
The speakers for the Wanaka event are: Dr Nicola Gaston and Dr Marcus Jones. Dr Nicola Gaston is Co-Director of the MacDiarmid Institute and an Associate Professor in the Department of Physics at the University of Auckland. Her current research is focused on understanding the relationship between electronic structure and properties such as catalytic activity, chemical reactivity, conductivity and thermodynamic stability, and how this relates to the underlying structure (size, shape, composition) of the material. Dr Marcus Jones is a Senior Lecturer in the Department of Chemistry at the University of Auckland. His current aim is to develop new ways to harvest photons for solar energy and enhance fluorescence for displays and biosensing applications.
We are not climate scientists and this lecture is not about climate change. We are materials scientists and we'll be speaking about research underway here in New Zealand that may reduce and perhaps even remediate the effects of climate change. This will include new energy technologies, renewables, energy efficient computers, recyclable consumer electronics and the upcycling of natural materials to contribute to a renewable economy.
The event will take place on Friday 6th September at 6pm, in Presbyterian Church Hall, 91 Tenby Street, Wanaka. It will have a panel format with a presentation from our speakers and plenty of time for questions from the audience. The series will also be visiting other locations around New Zealand, including Nelson, Tauranga and Queenstown, and these will be advertised in due course.
For any queries, please contact MacD-Admin@vuw.ac.nz.
SPEAKER
Dr Nicola Gaston & Dr Marcus Jones
ORGANISATION
MacDiarmid Institute in association with The Wanaka Branch of the Royal Society of NZ
VENUE/DATE
Presbyterian Church Hall, 91 Tenby Street, Wanaka
6:00pm Fri 6 September, 2019 - 7:30pm Fri 6 September, 2019
---