Design competition: Ko wai a Rutherford? Who is Rutherford?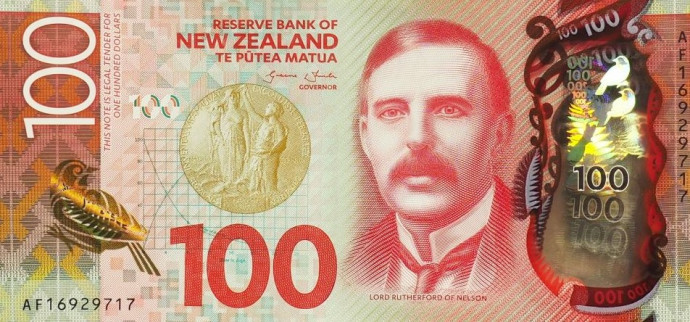 Who is that on Aotearoa New Zealand's $100 bill? It's Ernest Rutherford - the very first kairangahau (researcher) in nuclear physics. Born in Brightwater, near Nelson, this Hereturikōkā August marks 150 years since his birth. Celebrate with us by learning about who he was, what he did, and his incredible impact on the world today!
If you are a tauira (student) in Years 1-13, we are launching a competition for you to design your own $100 bill showing us what you know, or what you have learnt, about Ernest Rutherford.
You could win $100 AND have your design shared across Royal Society Te Apārangi's social media channels.
Depending on COVID-19 Alert Level restrictions, winning designs may also be featured on our billboard in Te Whanganui-a-Tara Wellington.
Without Rutherford's discoveries, the world would look very different today! That fire alarm in your whare (house) that protects you from ahi (fire) was invented thanks to Rutherford. Have you learned about the periodic table of elements? Rutherford discovered Radon – one of those elements!
So what were his other contributions? You show us!
Download full competition details, terms and conditions.
The competition opens on 30 August and closes on 30 September 2021.
#Rutherford150 Resources
Images
Follow the links below to access images free to use in your design!
Kia ora thank you to Nelson College, Te Papa, University of Canterbury, Canterbury Museum and Nelson Provincial Museum for providing the above resources. Check out their websites for more on Rutherford.