News
Published 10 May 2018
Professor Jan Anderson | First New Zealand-born female Fellow of the Royal Society of London
It has come to our attention that Professor Margaret Brimble FRS, FRSNZ is in fact the second New Zealand born woman to have been admitted as a Fellow of the Royal Society of London, with the first being Australian based biochemist Professor Joan Mary Anderson FAA, FRS.
The first female New Zealand-born Fellow of the Royal Society of London was Professor Joan 'Jan' Anderson, a scientist who worked in Canberra, Australia investigating photosynthesis.
Jan was born in Queenstown and achieved a BSc and MSc in organic chemistry with first class honours at the University of Otago (then known as University of New Zealand) and obtained the King George V memorial Fellowship to undertake postgraduate studies in the US.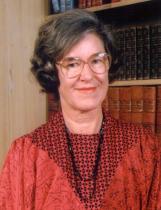 Upon Jan's arrival to the University of California, Berkely, she was told that her New Zealand postgraduate degree was not recognised and she was denied access to the library, research facilities and health insurance. To overcome this hurdle, Jan enrolled for a PhD under nobel-prize winning chemistry researcher Melvin Calvin. After completing her PhD in 1959 Jan returned to New Zealand briefly before accepting a position with the Commonwealth Scientific and Industrial Research Organisation in Canberra.
A major highlight of Jan's career was that she was the first to show that the photosynthetic mechanism comprises two fundamental components: photosystem I and photosystem II.
Jan was elected as a Fellow of the Australian Academy of Science in 1987 and as a Fellow of the Royal Society of London in 1996 and received numerous other accolades including the Centenary Medal in 2001 and an honorary doctorate from Umea University.
Jan passed away on 28 August 2015, but continues to impact her chosen field posthumously with her estate now funding a new scholarship for 400-level students with strong interests in plant biochemistry, at the University of Otago's Department of Biochemistry. The inaugural Joan (Jan) Mary Anderson Prize in Plant Biochemistry was established last year with the first winners recently being announced.
Source: Royal Society Te Apārangi