News
Published 13 December 2018
On-farm nutrient sensors and community-run diabetes intervention camps among solutions from Powering Potential students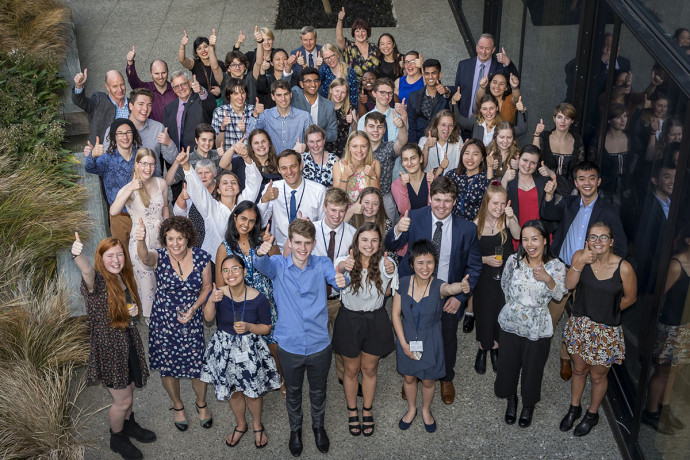 The fourth Powering Potential event took place in Wellington this week with students coming up with solutions to issues as diverse as how artificial intelligence can benefit society and how to regulate gene edited organisms.
Forty students from across New Zealand came to Wellington this week to work in teams to tackle some 'wicked problems' posed by scientists and technologists who mentored the students.
The students had to research the topics in depth and then work together to come up with potential solutions that they then presented to a public audience. They explored issues including what do the new measurement standards mean for communications across the galaxy, how can we better treat or prevent type-2 diabetes and how can we clean up and better manage our fresh water?
Royal Society Te Apārangi Chief Executive Dr Andrew Cleland FRSNZ congratulated the students. "To be here, you have demonstrated a passion for science, a love of ako learning, a strong curiosity and that you are motivated to make a difference.
"Together with Freemasons New Zealand, we are proud to have brought you together for this event. We hope you have enjoyed the challenges, made valuable connections and leave inspired to pursue a future of further science study."
Mark Winger, Grand Master, Freemasons New Zealand, had two clear messages for the students:
1. There are wonderful opportunities to work in science in New Zealand in fantastic locations.
2. Go overseas to gain experience but COME BACK to New Zealand.
Presentations made by the students will be available to view in 2019.
Source: Royal Society Te Apārangi