Research
Published 17 January 2020
A sweet solution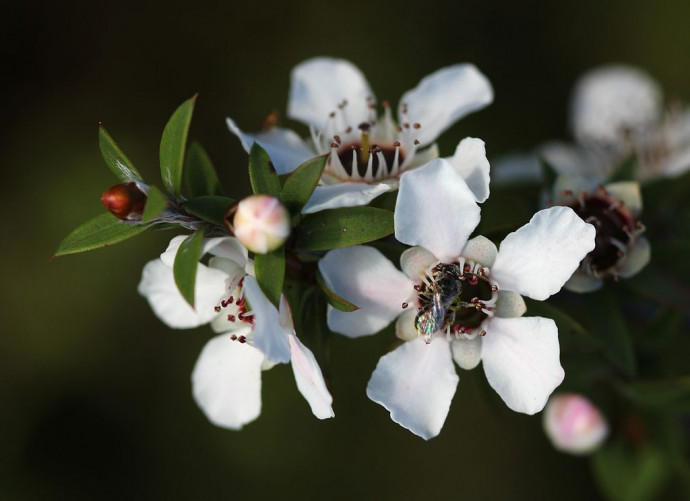 A native New Zealand bee (probably Leioproctus sp.) visits a manuka flower (Leptospermum scoparium). Photo taken on Tiritiri Matangi Island. CC BY-SA 3.0 Source: https://en.wikipedia.org/wiki/M%C4%81nuka_honey#/media/File:Manuka_flowers_and_native_bee.jpg
Hailed for its medicinal, antibacterial qualities, mānuka honey is so coveted that jars of the pricey product are often kept under lock and key in shops to prevent shoplifting.
Source: Victorious, Spring 2019
Mānuka honey is also subject to regular fakery, with fraudsters marketing adulterated honey (or, in some cases, entirely artificial-flavoured sugar syrups) as mānuka honey to cash in on the product's reputation. Research from Victoria Business School (VBS) is looking into how pharmaceutical products, including mānuka honey, are best protected by law.
Dr Jessica Lai, a senior lecturer in Commercial Law at VBS's School of Accounting and Commercial Law, has a Master's degree in Chemistry and a PhD in Law. Her doctoral thesis was on the use of intellectual property to protect traditional knowledge.
"There are companies in Australia laying claim to the term 'mānuka honey', and fake products coming out of China and the United States. But 'mānuka' is a Māori word, and there are many traditional Māori uses for the mānuka plant that make use of its medicinal qualities. There's a risk that big companies could profit off this traditional knowledge without Māori getting anything," says Jessica.
Jessica, along with the Faculty of Law's Professor Susy Frankel, has received a Marsden grant to take a broader look at whether regulatory data exclusivity has become an increasingly important tool for some pharmaceutical companies.
"Regulatory data exclusivity protects data that is submitted to gain approval to market pharmaceuticals. Susy and I are looking at whether companies rely more on this protection when patents don't offer the protection they want."
Several patent applications for uses of the medicinal properties of the mānuka plant and honey have been filed in New Zealand. So far, regulatory data exclusivity has not been an issue with mānuka-based pharmaceuticals.
"Patents don't apply so well to mānuka honey, for example, because it's a natural product that wasn't invented," says Jessica. "But you can isolate chemical compounds or genetic material contained within the plant or honey that can be used to identify it as containing mānuka. These markers are able to be—and have been—patented and are being used as part of the marketing battle over who can use the term 'mānuka honey' and what the product actually is."
Jessica says the trademark system could be a better way of protecting honey producers and consumers because trademarks are cheaper than patents and can, in theory, be maintained forever.
"But for this to work, there needs to be agreement on what actually constitutes mānuka honey. Such agreement would also make it easier to apply existing laws that protect consumers from misleading or deceptive conduct."
Jessica says a major concern is that Māori are often left out of the conversation, even when they have a relationship with the company seeking protection.
"This isn't okay. We shouldn't define 'mānuka' without Māori. Furthermore, we should be concerned when companies, who have their beehives on Māori land, experiment with the honey and seek patents for their findings, without consulting Māori. This is not to say that consultation is a panacea, but it's certainly a good starting point."
RESEARCHER
Professor Susy Frankel, Dr Jessica Lai
ORGANISATION
Victoria University of Wellington
FUNDING SUPPORT
Marsden Fund
CONTRACT OR PROJECT ID
18-VUW-195: "Mission Creep" in the Pharmaceutical Industry and its Impact on Innovation and Health
---