Research
Published 28 November 2019
Digging for gold and economic prosperity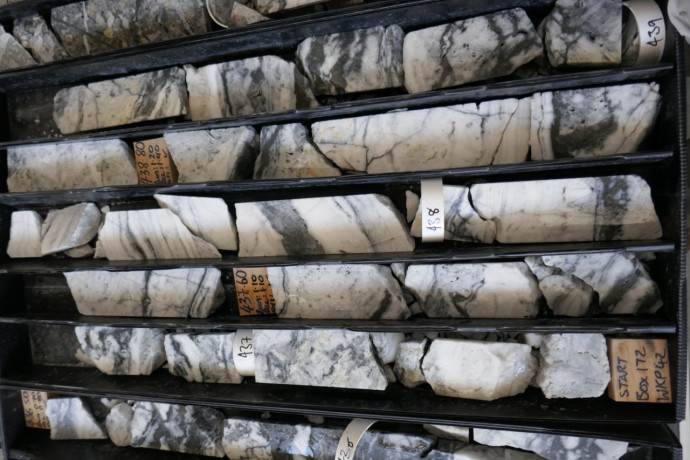 Drill core from epithermal gold and silver deposit in the Hauraki Goldfield. Credit: Tony Christie.
In a new special issue 'Exploration models for New Zealand hard rock gold deposits' in the New Zealand Journal of Geology and Geophysics researchers explore these deposits to highlight features that could be used to enhance mineral exploration.
Rewind over two centuries back to 1852, the year that Tasmanian Charles Ring struck gold. In the town of Coromandel, Ring made the first recorded discovery of gold in New Zealand. Fast forward a few years and more gold was found around Coromandel, Marlborough, the West Coast, Otago and Southland. Some of these discoveries led to massive gold rushes - pulling New Zealand out of poverty, and putting the nation on the world map.
Gold was therefore the foundation for New Zealand's mineral industry that continues to provide a wide variety of minerals and rocks essential to the local economy as well as export revenue, including more than $500 million each year for gold exports alone. Consequently, the quest to find gold continues today.
In a new special issue, edited by Tony Christie, Frank Bierlein, Isabelle Chambefort, Richard Goldfarb and Andrew Rae, researchers from GNS Science and the universities of Auckland, Waikato and Otago combined to answer the Government's research question: "How can multi-disciplinary research, with the aim of building exploration models and subsequent validation, improve understanding of New Zealand's on-shore mineral resources and contribute to discovering new world-class gold-silver and other commercially valuable mineral deposits?"
The question was the basis for the Gold Exploration Models programme - a four-year government-funded project. Researchers focused on New Zealand's hard rock gold deposits (gold enclosed in rock) to determine features that would help locate new deposits, and areas within the deposits where gold is concentrated.
Their findings are detailed in a series of nine papers in the special issue. The papers collectively describe New Zealand's three main types of hard rock gold deposits:
epithermal deposits formed by ancient geothermal systems
orogenic deposits formed at depths of several kilometres in the Earth's crust
intrusion-hosted deposits associated with granite intrusions.
The research examines the geological, geochemical and geophysical characteristics and settings of the deposits, highlighting features that could be used in mineral exploration.
In the late 1970s, the price of gold in New Zealand spiked, leading to a revival in gold exploration that still continues. Recent exploration and earlier gold production have demonstrated New Zealand as a potential source of a variety of gold deposits.
In the special issue, New Zealand is shown to be an ideal place to develop aspects of epithermal and orogenic gold deposit models because there are modern analogues being formed at present in our dynamic geological setting. For instance, the Taupō Volcanic Zone (TVZ) is an epithermal gold province where gold and silver are being deposited at present in some geothermal systems. Researchers are able to study the active mineralisation processes, and thus incorporate them in the gold exploration models.
Most of the geological and exploration information now available, new methods for analysing and visualising information, and understandings of New Zealand's tectonic evolution, have the potential to provide exploration targets in the future and indicate locations for other types of gold deposits.
The findings described in the special issue have positive implications for the future of gold, silver and mineral exploration in New Zealand, suggesting strong potential for new discoveries in the future.
Tony Christie is a Senior Minerals Geologist at GNS Science. Frank Bierlein is an Exploration Manager at QMSD Mining Co Ltd. Isabelle Chambefort and Andrew Rae are Geothermal Geologists at GNS Science. Richard Goldfarb is a Research Professor of Geology and Geological Engineering at Colorado School of Mines.
The special issue 'Exploration models for New Zealand hard rock gold deposits' published in the New Zealand Journal of Geology and Geophysics, is available to read in full at Taylor & Francis online.
Works cited:
Gold and Gold Mining – Te Ara Encyclopedia of New Zealand, Ministry for Culture and Heritage Te Manatu Taonga, 15 July 2017, https://teara.govt.nz/en/gold-and-gold-mining.
RESEARCHER
Guest Editors Tony Christie, Frank Bierlein, Isabelle Chambefort, Richard Goldfarb and Andrew Rae
---