Research
Published 20 August 2018
Dracophyllum fiordense - why has it been found further north than previously thought?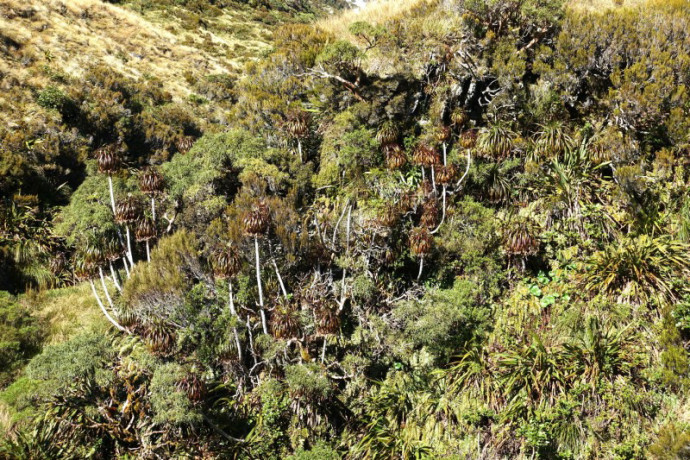 Dracophyllum fiordense, Scamper Torrent, Waitaha River catchment. David A. Norton, NZJB Vol 56.3
A particular species of sub-alpine tree named Dracophyllum fiordense has recently been documented as extending far beyond its known northern limits. What could be causing this recent expansion?
There are 35 kinds of Dracophyllum (a family of shrubs and tress) in New Zealand, with many being endemic to particular parts of the country.
Professor David Norton, author of the short communication 'A substantial northward extension of the range of Dracophyllum fiordense W.R.B. Oliv. (Ericaceae), Westland, New Zealand' published in the latest issue of the New Zealand Journal of Botany Vol 56.3, suggests that this extension of D.fiordense's northern limits could be due to several factors.
Dracophyllum fiordense is endemic to the South Island, and after its first descriptions in 1928 by W.R.B Oliver was thought to largely be confined to the southwestern region (from the southern end of Fiordland National Park to Franz Joseph Glacier). Norton conducted two expeditions into the mountainous regions of the Waitaha and Hokitika River catchments in late 2017 where he discovered that populations of D. fiordense had expanded an impressive 60 and 75km further northeast than had previously been documented.
Norton suggests there could be several contributing factors for this, with one being D. fiordense's similarity in appearance to its more common relative Dracophyllum traversii. However, Norton argues that the two can be easily distinguished on closer inspection as D. fiordense is much shorter in stature (reaching heights of just 1.5-5m compared to D.traversii's much taller 12m) and having flakey grey bark (compared to D.traversii's papery red-brown bark) as well as differences in its leaves. Norton also notes that D.fiordense is also inclined to occur on slightly higher altitudes and steeper slopes when inhabiting the same area as D.traversii.
DNA sequence data suggests that Dracophyllum migrated to New Zealand from Australia millions of years ago during the Late Miocene to Early Pliocene period. Temperatures in the early-mid Pliocene were a few degrees warmer on average than they are currently, with higher sea levels.
The changing landscape in Aotearoa during these periods is likely to have rapidly driven speciation through glacial cycles and tectonic uplift. Favourable modern climate and terrain conditions may be contributing to the recent spread northwards of D.fiordense.
Another possible reason for these more northern populations is that D.fiordense is simply more common than was previously thought, as it typically occurs on steep, often dense subalpine shrubland. These wild and remote habitats are some of the most difficult in New Zealand to access, and are very challenging to move through with only a handful of maintained tracks. Norton suggests there may be further populations of D.fiordense that have not yet been identified as the trampers and hunters who most frequent these areas may simply mistake them for D.traversii and not realise that it is a different species.
David Norton is a Professor at the University of Canterbury's School of Forestry. David's research interests include conservation biology (especially fragmentation and restoration ecology, significance assessment and threatened plant conservation) and integrated land management (especially involving biodiversity in agricultural and plantation forest systems).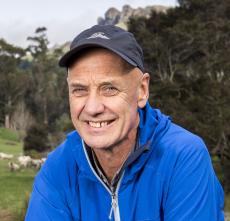 The article 'A substantial northward extension of the range of Dracophyllum fiordense W.R.B. Oliv. (Ericaceae), Westland, New Zealand' is available to read in full on Taylor & Francis Online in the latest issue of the New Zealand Journal of Botany Vol 56.3.