Research
Published 14 April 2022
Fragments from a Contested Past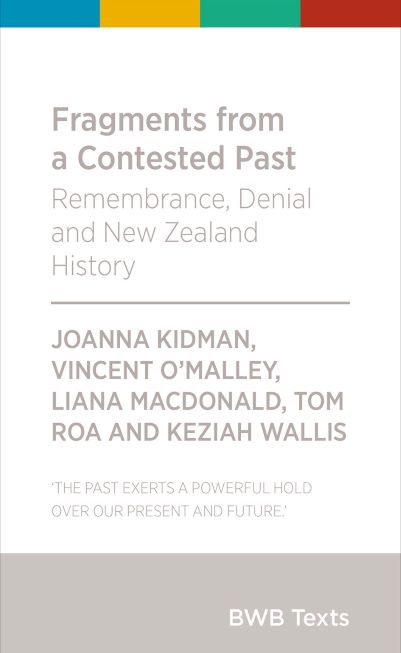 "It is a difficult and at times traumatic journey, but also a very necessary one".
Which histories does a nation prioritise – and which are left quietly aside? These are questions hotly debated in the international press. And in Aotearoa New Zealand, they are brought sharply into focus by the new history curriculum, arriving in schools in 2023.
Fragments from a Contested Past reflects on these questions of memory, loss and 'difficult histories'. The team of writers, several from iwi invaded or attacked during the New Zealand Wars, have come together to 'enable us to better imagine a future with a different, or wider, set of priorities'.
Combining first-hand fieldnotes from their journeys to sites of conflict and contest with innovative archival and oral research, the authors draw on some central narratives in our history – including:
Tuia 250, the nationwide commemoration of the 250th anniversary of Cook's arrival in New Zealand;
Boulcott's Farm and Battle Hill, the locations of two of the main clashes of the 1846 Wellington Wars;
the Great South Road, following in the footsteps of the British invasion from Auckland to Waikato;
Ōrākau and the stillness and memory of Rangiaowhia; and
the backlash to the Ōtorohanga College Petition calling for a statutory day of recognition for 'The New Zealand Land Wars', among others.
Looking at how these events are remembered – or not – provides significant insights into Aotearoa New Zealand's evolving national identity.
This BWB Text comes from the Marsden Fund-supported research project, 'He Taonga te Wareware?: Remembering and Forgetting Difficult Histories in Aotearoa New Zealand', led by Professor Joanna Kidman and Dr Vincent O'Malley.
Additional information: Media Release from Bridget Williams Books (including video link)
Additional information: Difficult Histories website
RESEARCHER
Professor Joanna Kidman, Dr Vincent O'Malley
ORGANISATION
Victoria University of Wellington
FUNDING SUPPORT
Marsden Fund Standard grant
CONTRACT OR PROJECT ID
VUW1820, He Taonga te Wareware?: Remembering and Forgetting Difficult Histories in Aotearoa/ New Zealand
---