Research
Published 2 August 2018
Ko wai au? Is it time to reform Aotearoa's water laws?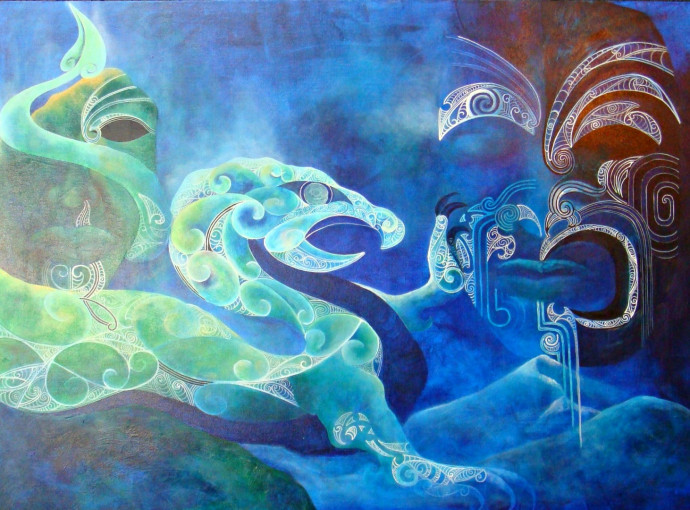 The taniwha (water spirit) Poutini and Waitaiki by artist Marybella Foster
Ngā Kete: The Annual Collection of Reviews. This week's final highlighted article is by Professor Jacinta Ruru FRSNZ on recent legislation acknowledging the Whanganui River as its own entity, a landmark decision of note for future water law reforms.
Ko wai au?
A simple question in te reo Māori that translates to English as 'who am I', but also more literally to ask 'who are my waters?'
The connection between land, water and humans is a an important aspect of te ao Māori, the Māori worldview. The rivers and lakes of Aotearoa form an integral part of the identity of tangata whenua, as such these geographical markers hold high cultural significance.
In her review article 'Listening to Papatūānuku: a call to reform water law' Professor Jacinta Ruru (Raukawa, Ngāti Ranginui, Ngāti Maniapoto) from the University of Otago's Faculty of Law discusses some recent positive transformations for environmental law, reasserting an integral place for tikanga Māori (Māori law) in the guidance of governance and management of our natural resources.
In 2017, Te Awa Tupua —the Whanganui River and all its tributaries, streams, lakes and wetlands were legally recognised as an indivisible and living whole. It now holds all the rights, powers, duties and liabilities of a legal person.
This serves as an important step forward for Aotearoa by acknowledging the Whanganui River not just as a tīpuna/living ancestor, but also providing it with the agency and rights of a living person. This signifies that the broader potential of law can be used creatively to embrace tikanga Māori and worldviews within the RMA (Resource Management Act 1991). In this new legal era for Te Awa Tupua, all existing public use and access has been preserved as well as the current functions and powers of local authorities, but there is an increased awareness of the Māori connection and relationship with the water, and of the importance of Te Awa Tupua.
Knowing and understanding these lands and waters as Papatūānuku, our earth mother, gives Aotearoa an opportunity to reform state environmental acts, primarily the Resource Management Act 1991 in a way that promotes the wellbeing of our entire nation. Jacinta suggests that the RMA needs to catch up with these commitments being made in Treaty settlements to more holistically acknowledge and support the intent of tangata whenua to know and care for lands and waters.
This legislative recognition is the fruit of the innovative actions and dreams of the iwi at the heart of Te Awa Tupua —Whanganui Iwi and Ngāti Tūhoe, who worked cohesively with the Crown to endorse Māori tribal visions for knowing and caring for lands and waters within our national statutes.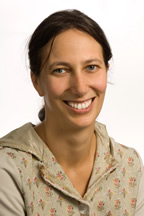 Jacinta Ruru was made a Fellow of Royal Society Te Apārangi in 2016 and is a Professor in Otago University's Faculty of Law. She is co-director of Ngā Pae O Te Māramatanga, New Zealand's Māori Centre of Research Excellence and director of Te Ihaka: Building Māori Leaders in Law Programme. Jacinta's research interests are in Indigenous Peoples comparative law, Māori land law, Family law and Māori, Environmental Law and Māori, Law and landscapes, Aotearoa New Zealand's legal history, Law and Society and Law and Geography.
The review article 'Listening to Papatūānuku: a call to reform water law' has been published in Ngā Kete and is available free-to-access for a limited time at Taylor and Francis Online.
This is the final article in the Alert newsletter weekly highlights series, celebrating the inaugural release of the special issue of Journal of the Royal Society: Ngā Kete Annual Collection of Reviews. If you have enjoyed reading this series of article highlights, or would like to see more content in Alert from Royal Society Te Apārangi's eight academic journals on a range of research topics from New Zealand's prominent scholars, we would appreciate your feedback to alert.editor@royalsociety.org.nz