Research
Published 6 August 2018
Making local streams swimmable again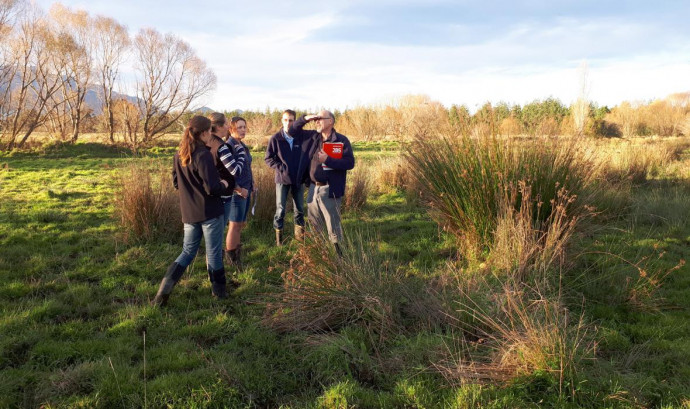 Discussing one of the remnant wetlands in the Kaikōura Plains catchment. Left to right: Jess Hill, Libby Sutherland, Jodie Hoggard, Dr Richard Storey, Dr Chris Tanner (Photo NIWA)
A community led project to restore a stream catchment in Kaikōura —damaged in the 2016 earthquake- is being described as inspirational by NIWA scientists.
Freshwater ecologist Dr Richard Storey is praising the efforts of the community group responsible for driving a plan to restore the Lyell Creek/Waikōau catchment, saying it was an example of how a community dealing with a lot of problems was able to find a way to achieve something positive.
"It's fantastic to see a community-led project that will have significant benefits for future generations," says Dr Storey.
Water quality in the Lyell creek/Waikōau catchment is considered poor due to a number of reasons, including historic extensive land drainage and intensive farming.
A community group started the restoration process back in the 1990s and had persuaded landowners to fence streams, and also managed to eradicate an unpleasant smell at the stream mouth in the town whenever it was dredged. However the 2016 earthquake caused stream banks to slump and springs to develop all over the catchment.
Environment Canterbury Kaikōura Branch Manager, Kevin Heays said the Kaikōura Water Zone Committee set up by the Regional Council and comprising community, council and rūnanga representatives passionate about water in Kaikōura, had also been formed with one of its aims being to get the water quality back to swimmable.
"This is a highly visible stream that runs through the town and is extremely important for mahinga kai as well as being highly valued culturally and aesthetically."
Following the earthquake, a working group of the Water Zone Committee assisted the local farming community in successfully securing MPI (Ministry of Primary Industries) funding for earthquake recovery—aimed at the farming community on the plains and their business recovery after the quake. The resulting 'Kaikōura Plains Recovery Project' formed with a governance group made up of local farmers, community members and the rūnanga. One of the workstreams identified by the group was "whole catchment recovery" and the need for "some solid scientific research" to help it proceed.
At this point in the project, NIWA scientists Dr Storey and his colleague Dr Chris Tanner became involved, they identified the key issues facing the catchment based on assessment and analysis of previous data collected and talked to people involved with the area.
"It had a drainage system to deal with the existing springs but when it all got shaken up, the overflow from the new springs flowed into the streams taking contaminants with it. Some temporary fixes were in place but there was a big problem with water-logging," Dr Storey said.
The scientists then put forward a range of prioritised steps for improving water quality and habitat, including analysis of costs, benefits and feasibility.
Dr Storey said NIWA's restoration plan offered a "menu of options" for the community to implement according to their priorities and as time and funding permitted.
Practical steps to improve water and habitat quality included dealing with critical areas such as stock access points and leaks from the sewage system; gradually planting riparian areas starting with places most visible to the community and constructing walkways and access points.
Dr Storey says while it is still early days for the implementation of the restoration plan, he has been impressed by the process so far.
"It has been community-led from the start and really started with local residents writing to the council to say they wanted to swim in the river again. The council responded by providing support but allowing the community to take the lead. It's been a great example and is set to become an asset to the Kaikōura community."
Additional information: NIWA press release
RESEARCHER
Dr Richard Storey and Dr Chris Tanner
ORGANISATION
National Institute of Water and Atmospheric Research (NIWA)
FUNDING SUPPORT
Ministry for Primary Industries
---