Research
Published 21 January 2020
Maramataka project reconnecting to tohu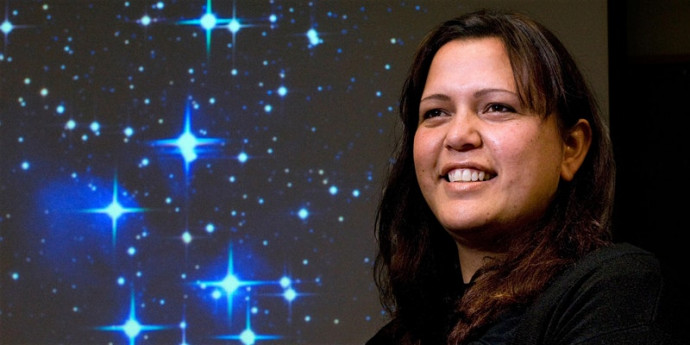 Dr Pauline Harris
The revitalisation of traditional Māori calendars, maramataka, and the reconnection to ancestral knowledge was the focus of a free public lecture on Wednesday the 22nd of January 2020
Originally published in the Gisbourne Herald, 18 Jan 2020, by Matai O'Connor
Dr Pauline Harris, a senior lecturer at the Centre for Science in Society at Wellington's Victoria University presented information about how the maramataka system is being affected by climate change and other sorts of stressors.
Dr Harris, who is the chairperson of the Society of Māori Astronomy Research and Traditions (SMART), is the principal investigator on the project Ngā Takahuringa o te ao: The effect of climate change on traditional Māori calendars. This is a joint collaboration between Victoria and Waikato universities, SMART and researchers from Hawaii. "I define maramataka as a multi layered system of tohu (signs) that are connected through time patterns that have been observed in the environment for hundreds of years," Dr Harris says.
"Different tohu like when certain flowers bloom or when kererū munch on kōwhai, when certain weather systems occur or when something happens in the sea, is what we are interested in looking at and seeing whether or not they are the same as they used to be."Maramataka contain a wealth of ecological, environmental and cultural knowledge, in addition to celestial knowledge, says Dr Harris. "Sometimes knowledge about tohu isn't around so we need to ask, do we need to rebuild that knowledge? If we know the past knowledge and the knowledge of today we can see what changes there have been in those tohu and why.
"The key question of the research was, is climate change affecting our maramataka. But the larger question is, what is the state of our maramataka in terms of knowledge base and what are the stressors impacting on our maramataka system? What's happening to our ngahere, our whanaunga the animals, what stressors are being put on them given the fact humans have been so destructive to the environment. It's about identifying the tohu and reconnecting us all to those tohu." This was all from a Māori lens, she said.
Her research works at the interface between Māori and western science, using tools and knowledge from both systems to engage in active research with communities and knowledge-holders to revitalise and generate knowledge. "The lecture is about sharing what we are doing so people in Gisborne and the wider area might consider monitoring their own tohu and to look at how humans have affected their environment and the animals that live there. The most important thing is the reconnection with the ancestral knowledge, and the environment and entities that live in our world.
"I think that reconnection is essential for our sustainability and the health and wellbeing of ourselves and the world. This is a collective body of work and I am representing that collective of people and the ancestral knowledge. We are just vehicles of this kaupapa. I'm still learning from the maramataka expert, which is exciting and challenging."
Dr Harris's lecture was part of the Marsden Fund 25 Series. The Marsden Fund Te Pūtea Rangahau a Marsden was established by the New Zealand government in 1994. Since then, it has driven world-class research in New Zealand by supporting and incentivising researchers to work on their best and boldest ideas, leading to new knowledge and skills with the potential for significant downstream impact for Aotearoa.
To celebrate the 25-year milestone, the Marsden Fund 25 Series shines a light on 25 researchers to reflect on the depth and breadth of research excellence supported by this funding, and has included talks on a variety of subjects including brain health, ecological past and revitalisation of traditional practices.
Additional information: More information and register for the event
Additional information: Revitalising Māori astronomy
RESEARCHER
Dr Pauline Harris
ORGANISATION
Victoria University of Wellington
FUNDING SUPPORT
Marsden Fund
CONTRACT OR PROJECT ID
VUW1626
---