Research
Published 20 December 2019
Maths is everywhere!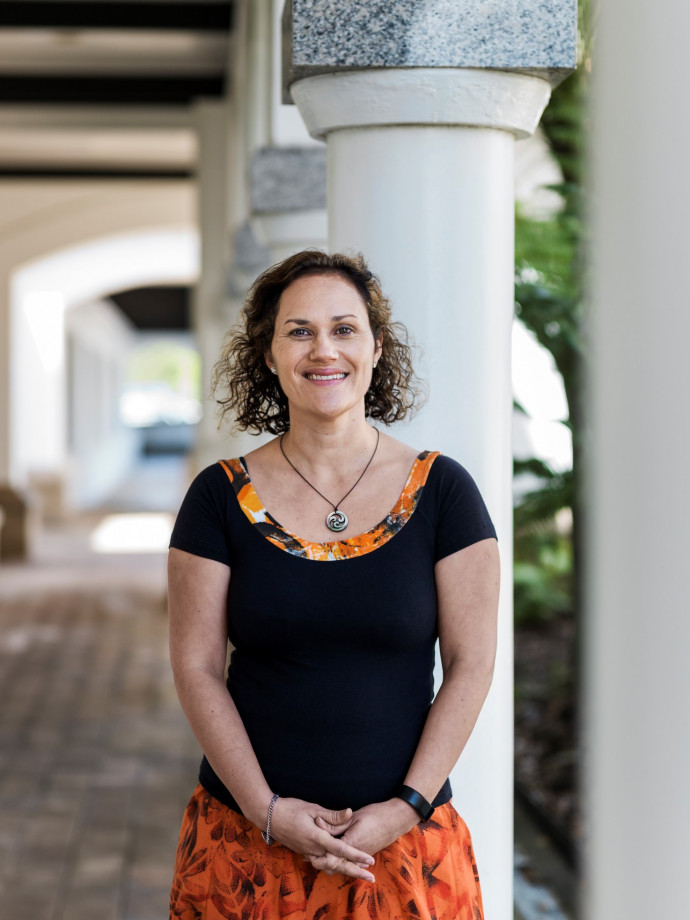 Dr Jodie Hunter. Photo supplied.
A method of teaching which encourages group problem solving in culturally centred contexts is improving engagement and outcomes in mathematics learning
Originally published in the Education Gazette by Education Central on 19 December 2019
A method of teaching which encourages group problem solving in culturally centred contexts is improving engagement and outcomes in mathematics learning. Developing Mathematical Inquiry Communities (DMIC) takes maths out of textbooks and into the heart of classrooms and communities.
In a Porirua classroom, Dr Jodie Hunter tells a class of Year 3 and 4 students that her grandmother wants to make a tivaevae using a pattern from a cushion cover and doesn't know how to multiply it. This is a glimpse of the Developing Mathematical Inquiry Communities (DMIC) intervention in action.
The children find that algebra can solve the problem – the equation they come up with is 'm x 8 + 4'. Along the way they talk about Cook Islands' culture, personal experiences and develop an understanding of the concepts of generalising linear growing patterns.
"I did the same problem with Year 2 students and they came up with the same generalisations," Jodie told the Education Gazette.
Origins of DMIC
The precursor of DMIC began in 2008, when Jodie's mother, Prof Roberta (Bobbie) Hunter, a former schoolteacher, developed a participation and communication framework for teaching maths to Pasifika students as part of her PhD study.
The results were good and 'Bobbie maths', as it is widely known, was born. Best Evidence Synthesis Exemplar 1, which was based on Bobbie's dissertation, received international recognition for demonstrating that mathematics achievement can be accelerated significantly and meaningfully in a single year.
The DMIC approach grew from there and is now used in 140 schools throughout the country, with funding from Ministry of Education's Professional Learning and Development budget.
In 2020, additional funding from the Government's Pacific Well-being Budget will be used so the approach can be rolled out over the next four years to an additional 48 Auckland schools with the highest number of Pacific students.
Bobbie and Jodie, who are based at Massey University, come from a Cook Islands' background and were concerned that Pasifika students' achievement is poor.
"A Ministry of Education report in 2014 showed that only 11 per cent of Year 8 Pasifika students are achieving at the appropriate curriculum level for maths," says Jodie. "That is really concerning because mathematics is such a gatekeeper in terms of opportunities in work, further study and just your daily life."
Pacific values in DMIC
Jodie says the approach is about equity and social justice and raising the achievement of Pasifika and Māori students.
"DMIC is about culturally sustained pedagogy and getting to know the students and their identities so they are enabled to succeed while maintaining their cultural identity in the classroom," she says.
"One of the reasons we emphasise using culturally based tasks is because it's not something that's usually been done in the past, particularly for Pasifika children.
"We have a lot of interview data from schools and when we ask, 'how do you feel being Samoan, Tokelauan, etc in the maths classroom?' they will often position their culture as being completely free of mathematics."
International research shows that ability grouping in maths has negative consequences in terms of children's achievement and their attitudes towards maths.
"One of the problems with using ability grouping is that teachers will have lower expectations of children who are in the lower ability groups. But if you think about the Pacific values of collectivism, collaboration and reciprocity, you can say that in fact, ability grouping is not a practice that aligns with the children's cultural heritage," says Jodie.
Tamariki like challenges
Children like getting their teeth into difficult and challenging maths problems if they are set up so they can support each other.
"We want teachers to be using problematic tasks all the time, which the children don't know the answers to straight away, but which are going to be challenging for everybody. We should take away the notion of ability and give everybody the opportunity to work on challenging tasks. What it's about is getting kids to work collaboratively in groups and structuring them so they can build off each other's ideas," Jodie says.
Mentors help build teacher confidence
DMIC has 20 mentors (will increase to 30 next year) who work alongside teachers around New Zealand. The mentors are often highly skilled classroom teachers themselves who work with teachers to help them plan problematic mathematics tasks and then anticipate what student solutions might be.
"This grows teacher knowledge. Teachers may have come from negative teaching experiences with maths and perceive themselves as not being very good at maths and so they become anxious about teaching it. A lot of people say, 'I'm not very good at maths', but I think we've got to stop saying that and start saying in fact it's about the way that it's taught," Jodie says.
Due recognition
The DMIC approach was featured as a stand-out pedagogy in the first Best Evidence Synthesis (BES) Exemplar in 2012 because of its alignment with BES findings and impact on learning, belonging and wellbeing.
And thanks to two recent accolades, Jodie will have the chance to take her research to the next level.
In October, Jodie was awarded a prestigious 2019 Rutherford Discovery Fellowship to continue the development of the DMIC initiative. And hot on the heels of the Fellowship award, Jodie's research project received $300,000 from the Royal Society Te Apārangi annual Marsden Fund.
Her research project will document the mathematical experiences of diverse learners outside of school, including home and community settings, through student and parent use of photography and video recording.
Additional information: Education Gazette
RESEARCHER
Dr Jodie Hunter
ORGANISATION
Massey University
FUNDING SUPPORT
Marsden Fund
CONTRACT OR PROJECT ID
MAU1910
---