Research
Published 21 August 2019
Middle class squeezed out of security and into uncertainty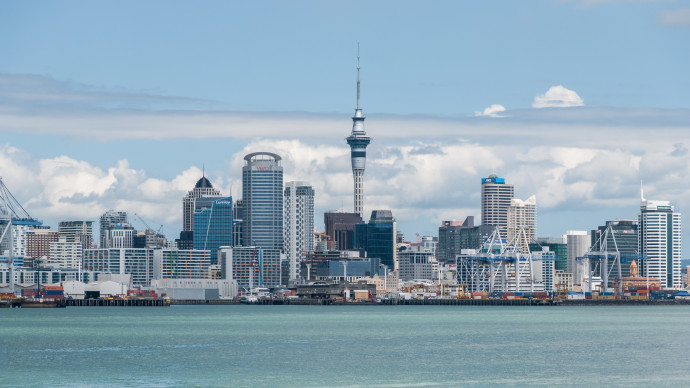 Auckland Skyline
New research published in Kōtuitui: New Zealand Journal of Social Sciences Online provides considerable evidence of the "squeezing" of Auckland's middle class and how it has led to an overall decline in Aucklanders' feelings of prosperity.
In their research article, Bruce Curtis, Angela Maynard and Nicky Kanade describe the "squeezed middle" as New Zealanders who see themselves as belonging to the middle of economic and social life in Aotearoa. Fifty five participants were drawn and studied from the Auckland area to examine their current experience as being a part of the middle and how increasing pressures are changing that experience.
These pressures include housing wealth, precarious middle-class work, university education and student debt—with neoliberalism introduced as the driving force and fault behind them all.
'Exploring the squeezed middle: Aucklanders' talk about being 'squeezed'' explores housing wealth as the middle's dominating concern. Research participants discuss how housing prices seem to continue to rise while their incomes remain static, which infringes upon their ability to realise aspirations surrounding home ownership.
It also looks at how younger participants feel that they will not have the same idyllic opportunities as their parents' generation—like the "Kiwi dream" of a owning a home, holding a career and having a family by the age of 40. Meanwhile, older generations express empathy to younger generations who they feel will not be capable of having the same experiences they once did.
The rise in precarious middle-class work is discussed alongside the feeling that jobs are not valued like they once were, especially in important industries like teaching.
The burden of student debt is investigated, and how it has dissuaded many individuals from pursuing an education, while pushing others to pursue degrees solely based off their earning potential.
Curtis, Maynard and Kanade explore how middle class Aucklanders perceive their current situation while taking into consideration all of the above factors. They conclude by looking at solutions undergone to avoid these "squeezing" feelings like intergenerational living, or relocation.
Bruce Curtis is a Professor of Sociology at the University of Waikato. Dr Angela Maynard holds a PhD in sociology from the University of Auckland. Nicky Kanade holds a masters in sociology from the University of Auckland, where she is currently enrolled in a PhD. 
This article Exploring the squeezed middle: Aucklanders talk about being 'squeezed is published in Kōtuitui: New Zealand Journal of Social Sciences Online and is available at Taylor & Francis Online.