Research
Published 21 October 2019
Palisade posts to reveal history in pā dating project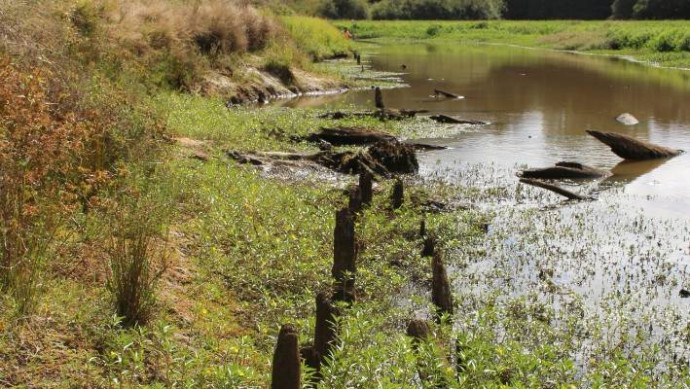 Source: WARREN GUMBLEY/W GUMBLEY LTD Only palisade posts which have been under water are preserved enough for the dating process. Pictured are posts at Otāhau Pā, in Taupiri.
A Waikato project will radiocarbon date palisade posts, map pā sites, and find out more about the lives of people who lived at them
Adapted from Libby Wilson's Stuff article, 'Palisade posts to reveal history in pā dating project', published on 11 October 2019
Update to this story: RNZ interview with Associate Professor Tom Roa and Associate Professor Alan Hogg with accompanying photo gallery
They've gone from proud defences to broken sticks, but old palisade posts will reveal the tales of Waikato pā. Science will tell researchers when the pā were built, and mātauranga [knowledge] Māori will create a picture of who lived there, and why the sites were chosen.
"We wanted to answer the question, why were pā built in the Waikato? What's the purpose of them?" University of Waikato Associate Professor Alan Hogg said. "Are they purely defensive? Are they to protect food crops? ... Are the oldest pā those in the north? Did people come up the Waikato River and get further inland?"
"Finding a palisade post is brilliant. I want to immediately haul them out [for testing] but the archaeologists won't let me", the radiocarbon dating specialist added with a grin.
The pā project combines science, archaeology and mātauranga Māori, and has an $827,000 Marsden Fund grant. It sprung from Hogg musing about what he could date with a new technique - radiocarbon wiggle matching - in New Zealand.
Archaeologist Warren Gumbley was around and mentioned that some of the pā have old palisade posts. He's part of the project: leading explorations and mapping the pā sites.
"There was a 2017 pilot run at Otāhau Pā in Taupiri - it was dated to 1768, plus or minus four years. Radiocarbon dating normally isn't so precise", Hogg said, "but the wiggle matching technique provides narrow date ranges."
Now the team is casting its net wider, discussing work at pā sites including Mangakaware, northwest of Te Awamutu, and Hamilton's Lake Rotokauri. "They must be wetland pā", Hogg said, "as only palisades under water are preserved enough for dating."
Often, they look like small sticks or trees poking out of the ground, and many are on an angle after being rubbed against by cattle.
But science is only half of the story.
Two of Hogg's University of Waikato colleagues will find out the human tales of the pā: who lived there and what activities went on.
They are Associate Professor Tom Roa and Dr Waikaremoana Waitoki. Roa said he was excited about bringing the disciplines together.
"The groundbreaking dating ... can be very helpful to our Māori understandings", he said, "in that we can then investigate through whakapapa, genealogy, kōrero tuku iho, oral histories, as well as written histories, things like whakatauākī, tribal sayings, and have a broader understanding of what was happening in the pā and in the area of influence of that pā."
"Locals of Waikato pā sites are keen to know more about their ancestors", he said, so he can see other areas and iwi getting interested. "The PhD students involved in the research could be at the forefront of the new area", he said, "and no-one knows what they'll find."
"The radiocarbon wiggle matching dating technique used in the study involves taking multiple samples from a single palisade", Hogg said. Tree ring science determines the years between them, and the radiocarbon dating results are matched to measurements from known-age wood. "You can slide the patterns over until they match up", he said. "It's finding a pattern in unknown-age wood and matching it against a pattern in a known-age wood."
Work on the project will start June 1.
The research team also includes Professor Atholl Anderson, Dr Gretel Boswijk, and PhD students Zac McIvor and Rowan McBride.
Additional information: RNZ: Archaelogical investigations of Pā sites on Waikato wetlands are about to start
Additional information: Stuff: Palisade posts to reveal history in pā dating project
RESEARCHER
Associate Professor Alan Hogg
ORGANISATION
University of Waikato
FUNDING SUPPORT
Marsden Fund
CONTRACT OR PROJECT ID
UOW1804: When and why did all the pa arrive? A multidisciplinary investigation into the spatial-temporal role of pa in the development of Maori culture
---