Research
Published 11 April 2019
Secrets of whau: Phylogeographic research could unearth a buried past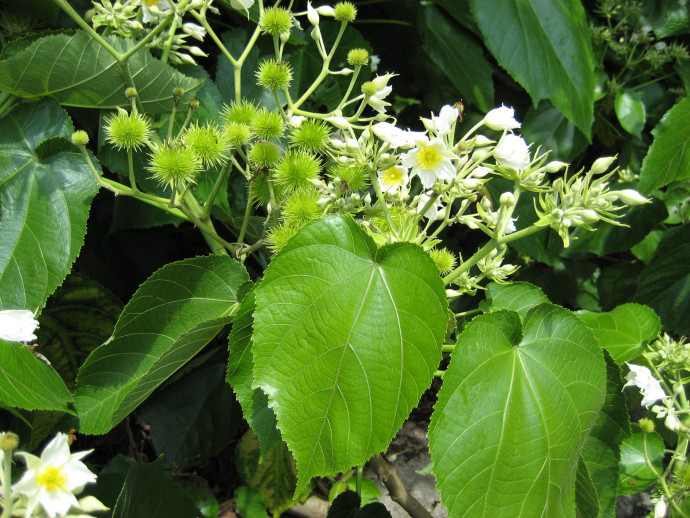 Whau tree flowering
In the New Zealand Journal of Botany, researchers have investigated the phylogeography of the native tree whau (Entelea arborescens), seeking to uncover the migration history of the plant and its pre-European cultivation.
Dr Lara Shepherd, a 2012 recipient of a Royal Society Discovery Fellowship, and her teammates Jonathan Frericks, Patrick Biggs and Peter J. de Lange used both chloroplast and nuclear DNA markers of whau to examine the phylogeography, or the history that is responsible for the modern distribution. Their paper, titled 'Phylogeography of the endemic New Zealand tree Entelea arborescens (whau; Malvaceae)', has been published in the New Zealand Journal of Botany.
Whau is a species of malvaceous tree which is endemic to New Zealand. It is relatively small—although it can grow up to be 15 metres tall. It has large, soft leaves and produces white flowers. Whau wood is highly buoyant and was historically used by Māori to make fishing pōito (floats) and kārewa (buoys). Ngāti Porou in the eastern North Island used it to make mōkihi (rafts) for coastal fishing. The branches and leaves of whau were used for healing, and infants were swaddled in the large, soft leaves.
Whau is normally associated with coastal areas and northern offshore islands. Its occurrence inland and in some southern areas suggests transplanting and cultivation by early Māori. Many of these areas are populated with other plants that are significant in Mātauranga Māori, such as karaka.
Seeking to look further into the possible pathways that led to the distribution of whau we see today, Dr Shepherd identified two distinctive genetic lineages of whau. One lineage was found mainly in the west coast of the northern North Island and the other on the eastern coast. The main area where the two lineages connected was in the Auckland region where the east and west coast are close in proximity. 
Rough dating in the research suggests that during the Pleistocene epoch there was a divergence of the lineages. This means that despite uninterrupted forest, there was not a continual gene flow in whau populations, and a split occurred.
The east-west split of the two lineages of whau differs from the phylogeographic patterns for karaka, which is also a coastal plant with a similar North Island distribution. It is known that karaka seeds are eaten and dispersed by animals. The differing distribution pattern could indicate that whau has a different mechanism of seed dispersal, which somehow resulted in the east-to-west split. The paper's authors suggest future experimental research to help determine how whau seeds are dispersed and recover the story of how the two lineages of whau came to be distributed widely around Aotearoa New Zealand.
This research was made possible with the assistance of Ngāti Kuri, Te Aupouri, Tiakina te Taiao, Ngāi Tahu, Ngāti Wai, Patuharakeke Trust, Ngā Puhi, Te Rarawa and Ngā Rauru.
The Journal article 'Phylogeography of the endemic New Zealand tree Entelea arborescens (whau; Malvaceae)' published in the New Zealand Journal of Botany by Lara Shepherd, Jonathan Frericks, Patrick Biggs and Peter J. de Lange is available to read in full at Taylor & Francis Online.