Research
Published 18 February 2018
Wairau Bar shaken by earthquakes in the past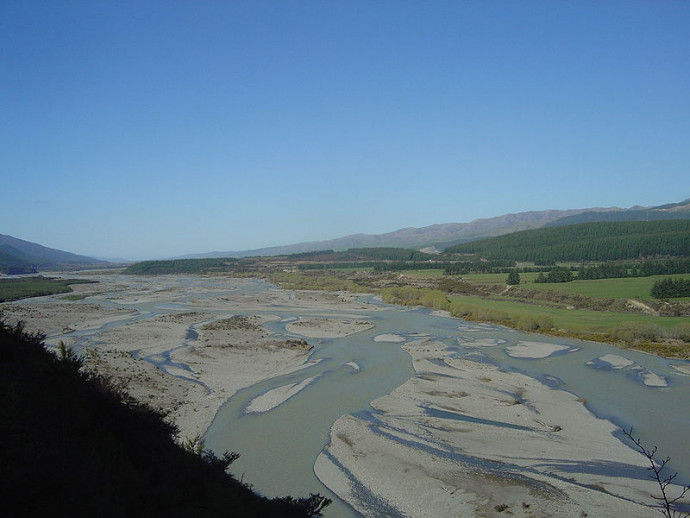 Wairau River | Image:creative commons
An article in the Journal of the Royal Society of New Zealand explores how one of New Zealand's most important archaeological sites - the Wairau Bar - has been shaken by earthquakes and flooded by tsunamis numerous times since it was first settled.
In the last 900 years, the Wairau archaeological site has been struck by at least four earthquakes large enough to cause environmental changes to the site and its surroundings. These include changing the site setting, previously on an island; and transforming it to become part of the existing Wairau Boulder Bank. In addition, the site has been subject to three tsunamis, the most recent of which was at least large enough to cause considerable damage to nineteenth century CE buildings on the site.
Earthquakes in 1848 and 1855 knocked down several buildings, stranded fish and lowered the land and nearby lagoons by 1-2 metres. The researchers say that the site at Wairau Bar is unique in New Zealand as a place that we can find out how Māori dealt with earthquakes and tsunamis in the past. But, they warn that we need to try and extract as much of the archaeological record from this important site while we still can, as another earthquake could shake loose all its secrets - or climate change could see the site gone by the end of the century.
Possibly New Zealand's most significant archaeological site, Wairua Bar is in an extremely hazardous location. Since it was first settled, the site has several times been severely shaken by earthquakes and inundated by tsunamis. These events have impacted on the site's surroundings, on the archaeological remains in the site and possibly directly on the site's inhabitants.
Observed impacts from the CE 1855 tsunami include demolition of buildings, scouring and fissuring of the ground surface, and stranding of fish. Inferred effects of the CE 1855 and earlier tsunamis include reworking and redepositing of archaeological material, and the possibility that some burials found on the site are of people killed by a tsunami. Judging from past earthquakes, and sea level rise from climate change, the site may not survive to the end of this century, an outcome that could be ameliorated by tectonic uplift.
 The journal article is available for viewing at Taylor and Francis online
For further information please contact Dr Bruce McFadgen
RESEARCHER
Bruce McFadgen | Peter Adds
ORGANISATION
Victoria University of Wellington
---