Research
Published 26 June 2019
Threats on all sides: effective ecosanctuaries require diverse methods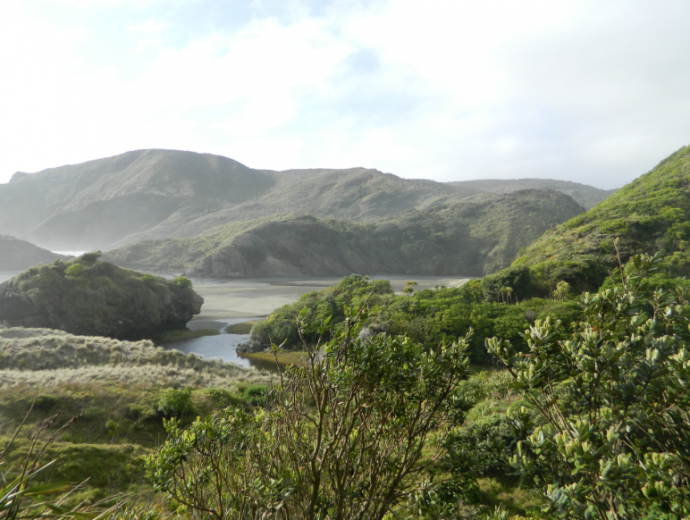 In the Journal of the Royal Society of New Zealand, a paper led by John Innes of Manaaki Whenua reviews the origins, types, attributes and outcomes of different ecosanctuaries in Aotearoa New Zealand.
In Aotearoa, our native birds, lizards, bats, frogs, invertebrates and vegetation are threatened by a diverse range of mammals. Consequently, our strategies for creating ecosanctuaries have been diverse as well.
Ecosanctuary is defined as 'a project larger than 25 ha implementing multi-species, pest mammal control for ecosystem recovery objectives, and with substantial community involvement'.
There are 19 island ecosanctuaries, ranging from 25–3842 ha, that lie off the coast of New Zealand. On average, all except two are within just two kilometres from the mainland. This close proximity to the shore means the sanctuaries are within swimming distance for stoats and Norway rats, and perhaps even ship rats and mice.
Ring-fenced ecosanctuaries offer a contained section that is fenced off from the surrounding landscape. These sanctuaries rely on the targeted species first being eradicated from inside the boundary fence, then diligent capture of all re-invaders. Fences also offer the ability to learn more about pest species and the chain reactions that may be precipitated by their eradication. However, ring-fence sanctuaries frequently fail at stopping mice.
Peninsula-fenced ecosanctuaries use a mixture of ocean protection and fencing. Less fencing means these ecosanctuaries cost less than ring-fenced ones, but have a greater risk of reinvasion because the fence-ends are often a weak spot.
'Mainland islands' (MI) are the most common type of ecosanctuary that undertakes pest control without fencing. Originally developed by inspired individuals in the Department of Conservation, during 1996–2006, there were 155 different monitoring techniques trialled in MI areas, leading to the development of the ground-based pest control techniques that are now in widespread use. Monitoring of these areas has shown that some species such as North Island brown kiwi, North Island robin, whio, kōkako and kākā can have sustainable or increasing populations without complete eradication of pests.
By this definition, projects that use aerial spraying of 1080 against pest mammals also can be referred to as ecosanctuaries. Some areas such as Waipapa Ecological Area and Taranaki Mounga are ecosanctuaries that use aerial 1080 operations alongside substantial poisoning and trapping.
The journal article 'New Zealand ecosanctuaries: types, attributes and outcomes' published in Journal of the Royal Society of New Zealand is by researchers John Innes, Neil Fitzgerald, Rachelle Binny, Andrea Byrom, Roger Pech, Corinne Watts (all of Manaaki Whenua), Craig Gillies (Department of Conservation), Matt Maitland (Auckland Council), Colin Campbell-Hunt (University of Otago) & Bruce Burns (University of Auckland). This article is from the upcoming special issue 'The State of Conservation in New Zealand' and is available to read in full at Taylor & Francis Online.