Research
Published 11 October 2018
Too much snow for Wanaka? (and not the alpine kind)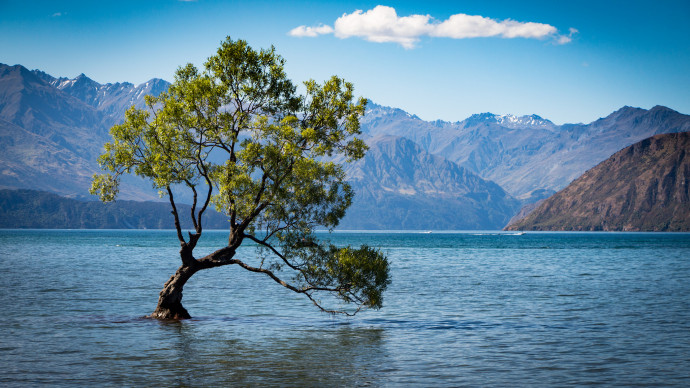 Wanaka and Queenstown are famous for their skifields and booming tourism industry, but their picturesque lakes have begun to suffer from increasing amounts of gooey slime known as 'lake snow'. A group of experts explore the cause of the phenomenon.
This research update discusses an article in the Editor's Choice section of the New Zealand Journal of Botany, which is available free-to-access for a limited time. The paper is 'The diatom Lindavia intermedia identified as the producer of nuisance pelagic mucilage in lakes' by Dr Phil Novis (Manaaki Whenua), Dr Marc Schallenberg (University of Otago), Dr Émilie Saulnier-Talbot (Université Laval), Dr Cathy Kilroy (NIWA) and Dr Michael Reid (University of New England).
In the winter months, large crowds eager to enjoy the snow flock to the ski resorts dotted around Queenstown and Wanaka, but recent 'snow' of a different kind is a cause of concern for researchers and local communities.
The sparkling waters of Lakes Wanaka, Hawea and Wakatipu are attractive destinations for fishing and watersports as the quality of water in these lakes is often extremely high, and the water very clear. However, in recent years an unexpectedly large amount of 'lake snow' has been occurring, with the phenomenon first reported in Lake Wanaka in 2004.
Lake snow is a more common name for extracellular polymeric substance (EPS), a sticky substance that resembles strands of mucus. It can get stuck to fishing gear and boat hulls, as well as clumping on water filters.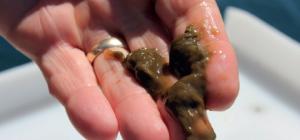 Microscopic studies of the lake snow, DNA sequencing and comparisons with other research have identified that the algae species that causes lake snow is Lindavia intermedia.
Lindavia intermedia is a single-celled alga belonging to a large group known collectively as diatoms. Diatoms are the only organisms on the planet to have cell walls made of silica, which means these organisms literally live in 'glass houses'.
Despite L. intermedia being present in lots of lakes, the lake snow phenomenon has only been reported to occur in a handful of lakes worldwide. Microscopic, transparent particles composed of EPS are common in lakes, but only become 'snow' when the aggregates grow to larger than 0.5 mm and are visible to the naked eye.
An example in Aotearoa of large-scale production of EPS from a different species of diatom is the prolific spread of Didymo, notorious for its choking effect on our rivers. In comparison, lake snow has received far less public attention than Didymo, although presence of the slime has resulted in at least one commercial fishing guide abandoning his activities on Lake Wanaka due to filter clogging and line fouling.
The slime poses no known human health risk at the present time. However, there are costly repercussions if it enters the residential water supply, as it will clog filters and any household appliances connected to the system. A $2 million dollar upgrade for Wanaka's water system has been proposed to counter this issue.
The slime has also spread to other lakes and was recorded in Lake Hawea and Queenstown's Lake Wakatipu in 2016. Line fouling from lake snow occurred in Lake Coleridge in 2013. Other cases and reports from Lake Benmore and the North Island's Lake Waikaremoana have also now been attributed to lake snow.
A changing climate could mean that even subtle increases in temperature may produce conditions that could favour the growth of a particular type of algae over another. The lakes currently affected by lake snow in New Zealand all have low levels of nutrient enrichment (with the exception of Lake Hayes) and the presence of lake snow can be difficult for the casual observer to see as the particles are mostly invisible when submerged, and only become apparent when concentrated on a filter or fishing line.
Citizen science is currently being used to help monitor the occurrence of lake snow at present, and a 'clean, check, dry' management strategy is in place for lake users when moving boats between lakes. The authors of the New Zealand Journal of Botany paper indicate that more research needs to be done to unravel the ecology of the organism in order to identify effective management options for controlling it.
To access the research paper in full you can visit the Editor's Choice of New Zealand Journal of Botany at Taylor & Francis Online. The Editor of NZJB has selected a number of recently published research articles from the Journal to be made available free-to-access for those interested in learning about the biology of plants, fungi and algae of the southern hemisphere.