Research
Published 16 January 2020
Transnational matai: Examining the experiences of intergenerational global Samoan titled chiefs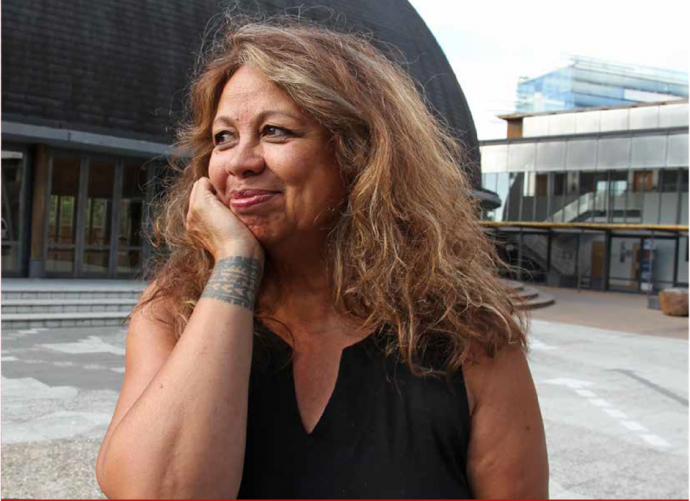 Lupematasila Misatauveve Dr Melani Anae outside the University of Auckland's Centre for Pacific Studies. Image: Miranda Playfair
With her project 'Samoan transnational matai (chiefs): ancestor god avatars or merely title-holders?' Dr Melani Anae, from University of Auckland is examining the Samoan transnational fa'amatai chiefly system in New Zealand, Australia, and the USA
Dr Anae is tracing the multiple uses and conceptions of 'culture' to find out how transnationality – the condition of cultural connectedness and mobility across space - is used to refer to the cultural specificities of global processes. Are Pacific nation states being transformed by globalisation into a single globalised economy? How are global cultural forces impacting on Pacific peoples, cultures, and identities? Dr Anae explores these questions by focusing on the links between 'cultural logics' of human action and economic and political processes within the Pacific. Her Marsden Fund project is a longitudinal study examining experiences of intergenerational global Samoan matai, or titled family heads, and the Samoan transnational chiefly system. Refuting claims about the end of traditional fa'amatai, her research provides an account of the cultural logics of globalisation and development and contributes to the study of Pacific modernity and its links to global social change.
Today, Samoa is governed by matai. The role and responsibilities of the matai in Samoa is to ensure the well-being of his or her family both in the village and in transnational spaces. Transnational matai living i fafo, out of Samoa, look after the well-being of their family in the host country, family in Samoa, and family in other transnational spaces. Samoans have exported their matai system to New Zealand, Australia, and the United States. Western-educated Samoans are earning better incomes, acquiring matai titles, and entering politics. The foremost source of change in Samoa today is from New Zealand, and there is hardly a family in Samoa without relatives in New Zealand, and even fewer Samoans in New Zealand who do not maintain a relationship with their homeland.
An examination of matai registrations held in the Samoa Land and Titles Court in 2016 revealed that of the registered matai born outside of Samoa, 83.5% were born in New Zealand, 6.6% born in Australia, 6.3% born in the United States, and 3.6% born elsewhere in the world. These results suggest that Samoans in New Zealand are the powerhouse of transnational fa'amatai. Of the 420,000 Samoans who live outside of Samoa, over a quarter of them live in New Zealand. In fact, population projections reveal that the Samoan population in New Zealand will outstrip Samoa's entire population of 200,000 by 2025. Moreover, economic indicators show that cash flows are mainly coming from New Zealand. Tautua, or service/serving, provides the four directional flows of transnational remittances that form the cornerstone of Samoa's socioeconomic stability. These cash flows are aiga (family) cash remittances, 'tourist' dollars and visits, saofai (chief bestowal ceremony) contributions, and aiga reunion and funeral contributions.
Having no control over the erosion or corruption of fa'amatai customary practices happening in Samoa, transnational matai continue to value and act on their tautua to their transnational Samoan communities, their families, and Samoa through their affective ties. These produce effective action through the cash flows that are driving Samoa's development. Despite complaints by transnational Samoans and matai reading articles in Samoa Observer about challenges to fa'amatai from the Samoan Government and Land and Titles Court, very few transnational matai have totally departed from fa'amatai obligations and practices and their centrality for the wellbeing of their families in and out of Samoa . Despite its alleged faults and ambiguities, fa'amatai is an integral part of their lives and Samoa's sustainable future depends on it.
One of the exciting outcomes of this research project is Dr Anae's supervision of PhD student Muliagatele Vavao Fetui, who is writing the very first PhD in the Samoan language in the world. The title of his PhD Thesis is 'O Toe Laumeanuti o le Fa'aaloalo I Agatausili a Samoa I Atualuga (Notions of politeness and respect in a Samoan transnational community). It will be submitted at the end of 2020.
RESEARCHER
Dr Melani Anae
ORGANISATION
University of Auckland
FUNDING SUPPORT
Marsden Fund
CONTRACT OR PROJECT ID
UOA1425
---