Research
Published 5 September 2018
Using catapults to monitor mouse-climbing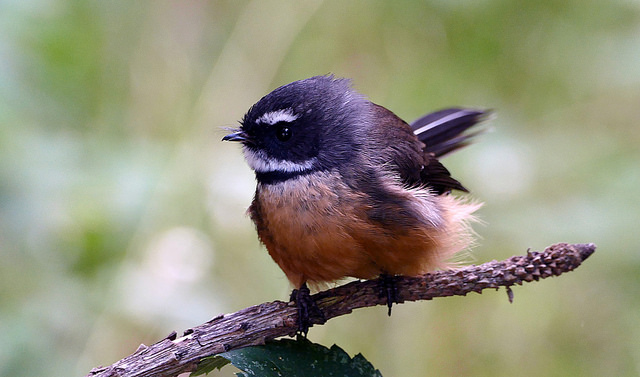 Pīwakawaka (New Zealand Fantail) - a potential victim of egg poaching by the wild house mouse
In a special issue of NZJZ dedicated to pest management pioneer Prof. Carolyn 'Kim' King, one of the papers discusses a device that combines footprint tracking, bite detection and catapults to detect wild mice and other pests in NZ forest canopies.
The special issue of New Zealand Journal of Zoology is dedicated to Professor Carolyn 'Kim' King, editor of Handbook of New Zealand mammals, otherwise known as the 'mammal bible' for scientists in New Zealand. Kim has made a significant contribution to NZJZ over the past 30 years as both an executive editor, and senior editor for six years. Without Kim's expert editing and the many hours she has invested in the Journal it would not have achieved the same status it currently enjoys.
Kim studied at the Oxford University School of Ecology and has authored on lizard taxonomy, genetic engineering and blackbird bill colours though she has primarily studied small mammals, particularly stoats and weasels. She is an undoubted world authority on them, with more than 50 papers and two internationally significant books, both called The Natural History of Weasels and Stoats.
Less mainstream are Kim's papers on philosophies of management of parks and control of pests. Kim reminded an early meeting of small mammal researchers for the fledgling Biological Heritage National Science Challenge to consider limiting pest reproduction rather than killing adults.
Kim received the New Zealand Ecological Society Award for excellence in the study and application of ecological science in New Zealand in 1999, a Mammal Society Medal in 2005, and the Lifetime Achievement Award at the 2010 Waikato science Kudos Awards. It is probably impossible to measure the reach and influence of her more than four decades of published and edited books and papers, especially the now-iconic Handbook of New Zealand Mammals, first published in 1990 and again in 2005, with a third edition now underway, this time with Kim sharing editing. The papers selected for publishing in the special issue reflect Kim's interests and expertise, in recognition of her lengthy and significant contribution to the understanding of New Zealand pest mammal ecology.
On 25 February 1824, the brig Elizabeth Henrietta ran aground on Ruapuke Island, in the now-named Henrietta Bay. Sometime during the five months while the ship being repaired, the common house mouse made it to shore, making it the first site in Aotearoa to be colonised by mice. The human residents of Ruapuke Island didn't know what these odd little furry things were, and folklore reports that they were referred to as 'henriettas' after the ship the animals had originated from.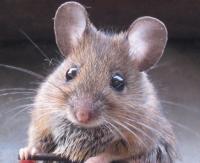 In the nearly 200 years since stowaway mice immigrated to Aotearoa, they have boomed to become one of the most widespread mammalian pests in the country. Though only weighing an average of 15–20 grams and being around 11.5 cm long, these tiny pests are capable of attacking prey as large as the Otago skink (around 30 cm long).
Mice are able to infiltrate pest-fenced sanctuaries in NZ. As prey animals themselves, they make the most of the stoat/rat-free environment, consequently reaching higher densities inside the sanctuaries than they do outside. Previous research in the laboratory shows that house mice are quite capable climbers. Learning more about mouse climbing will allow the managers of pest-free sanctuaries to accurately gauge how much risk the small rodents pose to our tree-dwelling flora and fauna.
In the article by John Innes, Catherine Kelly, Neil Fitzgerald, Morgan Warnock & Joseph Waas, 'Detection of wild house mice and other small mammals up trees and on the ground in New Zealand native forest' in the special issue of the New Zealand Journal of Zoology Vol 45.3, detection surveys are carried out in New Zealand indigenous forests where mice were the only small pest mammal present, and in areas of forest where all introduced pest mammals were present.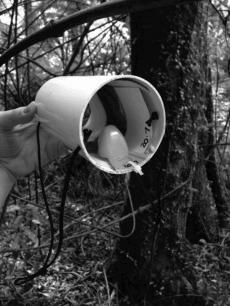 The researchers used footprint-tracking tunnels and wax tags that were baited with peanut butter (a known favourite food of rodents) at different heights (from 2–20 metres up) in accessible trees to see where and when mice were present in the canopy. In surveys carried out in 2015, the researchers used catapults to fling cord lines over tree branches at selected heights and locations, which were then used to pull the sampling devices into position. The sampling devices were designed to be effective no matter which angle they ended up in when pulled into position.
The results of the study showed that in the absence of other pest mammals, house mice frequently scale trees to human head height. Occasionally they are also found much higher up, with one mouse being recorded at 11 metres above ground (that's around the equivalent height of an average human climbing a skyscraper!)
These results show that house mice (particularly in areas free of other small pest mammals) are potentially predators of fauna, seeds, invertebrates, lizards and even small bird eggs and chicks up trees. The authors suggest that nest predation studies of small birds who nest low in the forest structure, such as pīwakawaka (fantails), should be undertaken in pest sanctuaries where mice are abundant in order to see the impacts they have on our native species. The ingenious design of the sample device, which can be catapulted into position and is effective at any resting angle, could also be used in future to monitor other species such as wētā.
The full article 'Detection of wild house mice and other small mammals up trees and on the ground in New Zealand native forest' can be accessed in the New Zealand Journal of Zoology Vol 45.3 Special Issue: Honouring Carolyn 'Kim' King: New research on New Zealand's small predatory mammals. The special issue was edited by Guest Editors: James Ross, Chris Jones, Adrian Paterson and John Marris.