Research
Published 14 February 2020
Waikato Professor's link to Oscar-winning Skateistan documentary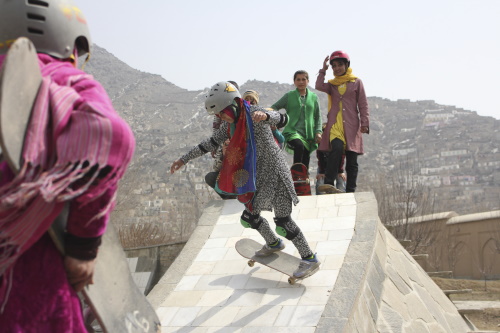 Skateistan, girls skate garden in Kabul, Credit: Skateistan
The story of Skateistan, a non-profit non-government organisation (NGO) that uses skateboarding to empower disadvantaged youth in Afghanistan, has just won the Academy Award for Best Documentary (Short Subject)
Adapted from an article originally published in University of Waikato News on 13 February 2020
The short documentary, Learning to skateboard in a warzone (if you're a girl), focuses on the lives of young Afghan girls challenging perceptions, learning to skateboard and get an education.
University of Waikato Professor Holly Thorpe has been working with Skateistan since 2012, starting as a researcher then taking a role on the International Advisory Board for the project in 2017.
Her recently completed Marsden Fast-Start project included Skateistan's work in Afghanistan as one of the key case studies, and she has published various other academic articles from her work on Skateistan. The overall focus of her Marsden project was the role of informal sports such as skateboarding for youth recovery and community rebuilding in conflict and post-disaster zones. Similar themes are powerfully illustrated in the Oscar winning documentary.
The documentary, Learning to skateboard in a warzone (if you're a girl), follows the progress over a year of a group of girls at Skateistan in Kabul, both in the classroom and the skatepark. The film focuses on how Skateistan provides a safe haven from the increasingly unstable outside world, and a place where the girls can express themselves.
The documentary has also been awarded a BAFTA for Best British Short Film (Documentary), and was created by Grain Media and A & E Networks.
"As a member of the International Advisory Board of Skateistan, I am really excited to see this amazing sport and education NGO getting this visibility. The work they do is phenomenal and winning an Oscar means that many more people in the world will know about their programmes, and the impact they are having on these children's lives and their communities," says Professor Thorpe.
Skateistan runs five programmes within their Skate Schools in Afghanistan, Cambodia and South Africa for children aged 5-17, which combine life skills with fun, freedom and creativity to help create leaders for a better world. In an average week, Skateistan sees roughly 2,000 participants across their programs, with 45% of these participants being girls and 82% from low-income backgrounds.
As a member of the International Advisory Board, Professor Thorpe meets with the Board twice a year to discuss key issues the organization is working through and to provide advice, support and guidance. Other Board members include world famous skateboarders Tony Hawk and Mimi Knoop, and Executive Director of the Global Centre for the Responsibility to Protect, Dr Simon Adams. Each member brings a different skill set to the table which "makes for very engaging and thought provoking meetings," says Professor Thorpe.
Professor Thorpe is able to share findings from her recent research back to the NGO and add her critical sociological insights into the mix. In her own words: "Skateistan, and particularly founder Oliver Percovich, have always had such a good attitude to working with me as a researcher. They are open to critique and to learn from the research. As an NGO, Skateistan is focused on working with local communities to ensure their work is meaningful and culturally-appropriate."
For Professor Thorpe, the filmmakers did an excellent job of telling the stories of the Afghan girls, but it was also the passion, creativity and innovation of the NGO that helped make such a compelling documentary.
"The local and international staff are so passionate and we see this in the success they have working with disadvantaged children around the world, including those brave girls in Kabul. We see it on the faces of the children who are so filled with joy to be rolling on a skateboard in a safe and supportive environment."
Additional information: University of Waikato News
RESEARCHER
Professor Holly Thorpe
ORGANISATION
University of Waikato
FUNDING SUPPORT
Marsden Fund
CONTRACT OR PROJECT ID
UOW1504 'Sport in the red zone: youth and social change in spaces of war and disaster'
---