Research
Published 26 September 2018
What impact could a major earthquake have on vital West Coast roads?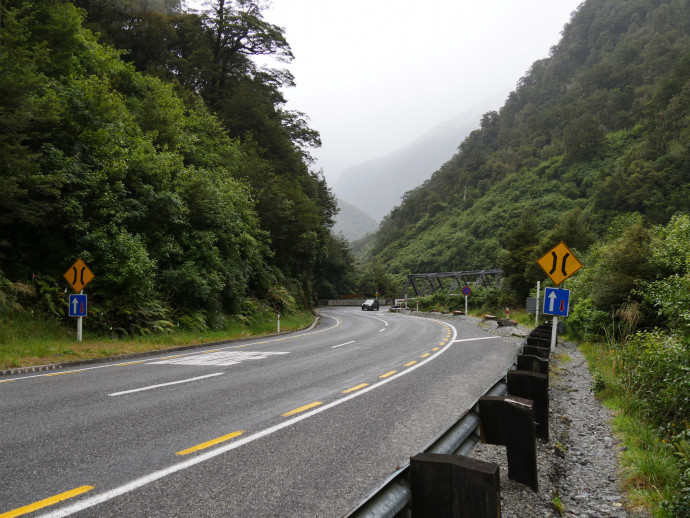 Stretch of road between Fox Glacier and Haast
Using observations from the 2016 Kaikōura earthquake and a mock scenario, scientists are able to predict some of the key points on major West Coast roads that are likely to experience blockages and landslides after an Alpine Fault quake.
A special issue of New Zealand Journal of Geology and Geophysics Volume 61.3 was originally intended to mark the 2017 tercentenary of the great Alpine Fault earthquake, but this plan was disrupted by ground-breaking events in Kaikōura.
Just after midnight on 14 November 2016, a 7.8 magnitude earthquake southwest of Kaikōura shook nearly a million cubic metres of rock and material loose on the east coast of the South Island. The quake left Kaikōura and the surrounding rural communities isolated with almost all road access in and out of the area severely impacted or closed. More than 1700 people pitched in, but it wasn't until after a year of focused efforts and nearly two billion dollars, that the roads, harbour and railway to Kaikōura were finally reconnected.
The far from easy job of disaster relief reinforced the value of ongoing geohazard research in Aotearoa, and the rubble from the Kaikōura quake left researchers with a vast pile of new data to sift through.
One of the included papers in the special issue of NZJG that incorporated new research following the Kaikōura quake is the article 'Road impacts from the 2016 Kaikōura earthquake: an analogue for a future Alpine Fault earthquake?' by Dr Tom Robinson from Durham University's Department of Geography. 
The impacts seen after the Kaikōura quake are likely to be good predictors of those in an Alpine Fault event. This is because the West Coast region (where the Alpine Fault is located), like Kaikōura, forms a narrow coastal strip between the Tasman Sea and the Southern Alps.
Robinson's research identifies key locations on state highway routes that have similar attributes to those affected in the Kaikōura quake. These are the roads that may become blocked in the event of an Alpine Fault rupture.
The Alpine Fault has experienced large-to-great earthquakes every 250–300 years over the past 8000+ years, which places a question on 'when' rather than 'if' the Alpine Fault will experience another large earthquake.
The most recently released New Zealand census shows that over 10,000 people live in the West Coast region that could be cut off due to road blockages from a major earthquake, as well as several more thousand tourists affected while travelling around the vacation hot-spot.
Unlike Kaikōura, where alternative access to Blenheim via SH7 was still possible, no alternative routes to Milford Sound, Franz Joseph, Haast or Arthur's Pass currently exist. Additionally, the well-known and frequent occurrence of bad weather along the West Coast, combined with lack of sea ports south of Hokitika, could make evacuation and resupplying of essential goods by sea and air difficult.
State Highway 6 (SH6) between Hokitika and Haast, SH73 near Arthur's Pass and SH94 south of Milford Sound are all likely to be affected by an earthquake along the Alpine Fault. Surface fault ruptures along SH1 and SH70 occurred in the modelled scenario at eight different locations, and over 20 locations are predicted to be blocked by landslides. The majority of the blockages are projected to occur between Franz Joseph and Haast.
The displacements predicted by the model are similar or larger than those seen in the Kaikōura earthquake, which suggests these regions will be completely impassable for all vehicles. This means reconnecting the affected townships will form a substantial challenge in both the long- and short-term.
The article 'Road impacts from the 2016 Kaikōura earthquake: an analogue for a future Alpine Fault earthquake?' is available at Taylor & Francis Online in the latest issue of New Zealand Journal of Geology and Geophysics Vol 61.3. The Guest Editors of this special issue 'Tercentenary of the 1717 great Alpine Fault earthquake: advances in science and understanding hazards' are Phaedra Upton, Ursula Cochran, Caroline Orchiston, Jamie Howarth, Jarg Pettinga and John Townend.
See below for split-screen drone footage of the damage caused by the Kaikōura earthquake versus one year on.