2018 Mentors/Consultants
Mentors/Consultants are vital to all CREST projects.
Each of the 2018 teams have an invaluable industry mentor/consultant who provides access to information and experiences outside the classroom.
CREST and NZIFST acknowledge the support of the following people who are mentoring school students who have entered the 2018 NZIFST/CREST Student Product Development Challenge; and their respective managers, for allowing them to take valuable time out of work to do this.
2018 Mentors/Consultants
Amaana Pilli and Alina Rajan, Waikato University
Annalese Webber, Zealong Tea Estate
Angela Yang and Hillary Tuason, MPI Animal Products
Carmen Boyd and Marylou Manahan, GROENZ
Chathurika Samarakoon, WinTec
Daniela Stringer and David List, Sealord
Esraa El Shall, EeLaine Yeoh, Maddi Brown and Nazanin Rafati, Fonterra Brands Tip Top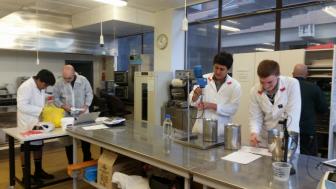 Isabel Buerschgens, Elise Waddell and Mitchell Thompson, Sensient Technologies
Kristy Giles, Appleby Farms
Maria Coleman, Consultant
Mitchell Thompson, Sensient Technologies
Pip Duncan, vegetables.co.nz
Sandra Chambers, GreenMount Foods
Sarah Beaton and Amie Duan, Hawkins Watts
Yi-Chern Lee, Fonterra Hamilton
The following offered their services to mentor 2018 teams
Fiona Greig, Beef + Lamb NZ

Morgan Christy-Jones and Richard Todd, Fonterra Te Rapa

Rika Takeda, Kraft Heinz

Steffen Friedrich, Much Moore Ice Cream

Tamsyn Illston

Tessa Warner, Fonterra Hautapu
A mentor/consultant's role is to:
Provide advice that complements students' ideas
Help the students to learn the skills they need to succeed
Liaise with the teacher to ensure the student's success
Help students towards achieving realistic goals
Explain 'how something is usually done' or provide information about some aspect of their project
Suggest other questions or avenues that would be interesting and manageable to explore
Provide access to some equipment, a workplace, or materials if convenient and if the situation is safe.
The most successful projects come from students' own ideas, though a project does need to be manageable and realistic.
Mentors/Consultants support the student's initiatives but avoid doing the project for them.
Students and mentors/consultant's alike find CREST a rewarding experience.