Food Science and Technology PLD
Amazing opportunity for technology and science teachers involved in the 2018 NZIFST/CREST Student Product Development Challenge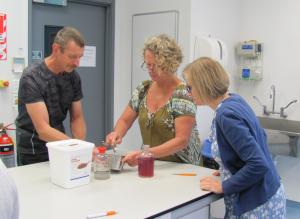 Staff from Massey University's Institute of Food Science and Technology ran a comprehensive one day course for food technology and science teachers who are supervising students doing the 2018 NZIFST/CREST Student Product Development Challenge .
Despite the awful weather, teachers travelled to either the Albany or Manawatu campuses, where the two groups were video linked for a fulfilling and exciting day of Food PLD.
The course provided an introduction to the Product Development Process used by the food industry, and provided teachers with other information which will assist their students through the Challenge.
Teachers learnt about:
The Product Development Process used by the food processing industry
Labeling foods in compliance with the Food Standards Code
Regulations about nutritional and health claims; use of the nutrition information panel calculator;interpretation of nutrition information panels and how to write them and how to calculate and interpret Health Star ratings.
How to write ingredient listings, including characterising ingredients; allergen declarations.
Where to find food standards for specific products, e.g. dairy products
An introduction to the physical (e.g. temperature control, water activity, pH) and chemical (e.g. ingredients) methods used to produce safe food, and guidance re use of the risk assessment forms we ask you to use.
The opportunity to attend this professional development has given both science and technology teachers a greater insight and understanding of the processes, and requirements needed when producing a new food product.