Tomahawk Lagoon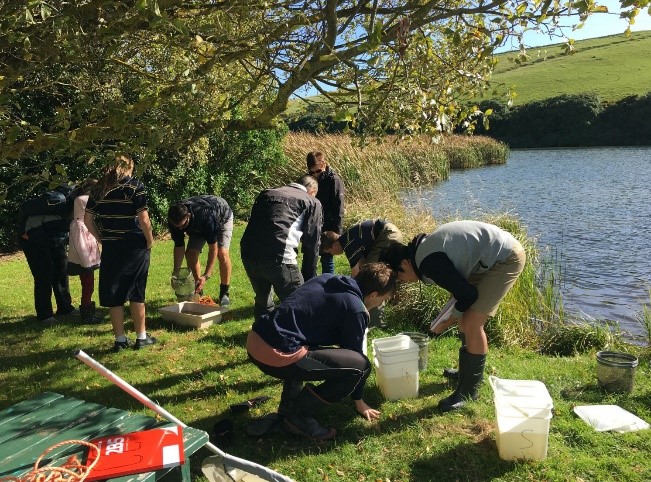 Tomahawk Lagoon
Helping the Tomahawk Lagoon Community look after their own back yard: the upper and lower Tomahawk Lagoons and catchment.
Tomahawk Lagoon is a waterway of significant ecological and recreational value to the wider Otago coastal community. The project addresses community concerns over historical and recent nutrient discharges, related frequent algal blooms, and the paucity of regular water quality monitoring.
This project has established a Tomahawk Lagoon citizen science team to survey the water quality of the upper (east) and lower (west) Tomahawk Lagoons and catchments. The team is investigating, through monitoring of the physical, chemical and biological aspects of the ecosystem, the environmental health of the lagoons. This monitoring programme is designed to facilitate long-term data collection, and support committed community partnerships.
Teachers of students who have fully engaged in a completed Tomahawk Lagoon programme are invited to apply for a student Tomahawk/CREST Award.
CREST
CREST is a Royal Society Te Apārangi awards scheme designed to encourage excellence for Years 0-13 students to be innovative, creative, and to problem solve in science, technology, environmental and other STEM related investigations.
CREST operates at five levels of difficulty where the students work as individuals or in small teams. At all levels the student are learning skills in scientific research and/or technological practice. Each level requires larger commitment as the students need to tackle more difficult projects in terms of content and research practice or skill.
At all levels, the students are learning skills in scientific research and/or technological practice.
Eligibility
Y0-8 students are eligible for a Tomahawk Primary CREST Award.
Y9-13 students are eligible for a Tomahawk Team Bronze CREST Award.
The Process
Teachers might like to consider ways in which they can use the Tomahawk Lagoon CREST experience for curriculum and/or assessment links.
Towards the end of the programme teachers complete the Tomahawk/CREST order form, have it signed off by their Project facilitator and forward it to CREST (crest@royalsociety.org.nz).
No additional work is required.

Cost
Primary CREST - $3.00 per (Y0-8) student
Team Bronze - $6.00. per (Y09-13) student
Project Leaders, Teachers/Schools are reminded to follow their normal school procedures for collecting payment from/for students' activities.
CREST will invoice the school on receipt of the Tomahawk /CREST order form (see below)
Each student will receive a badge and certificate. Thus, students and teachers receive additional recognition for their work as well as establishing a pathway to further opportunities or CREST involvement.
Future Pathways
Students who have fully participated in the Tomahawk Lagoon project can use their CREST award as a pathway to the next CREST level:
Contacts
For further information, please contact:
Order Form
Tomahawk-CREST-order-form.docx
Flyer
Please note:
Students who participated in the Tomahawk project when funded by Participatory Science Platform (PSP) will receive a Tomahawk PSP Alumni/CREST award.
Students who participated in the Tomahawk projects when funded by Otago Regional Council Platform (ORC) will receive a Tomahawk ORC/CREST award.