News
Published 11 November 2019
End of an era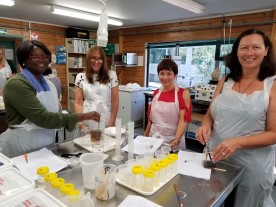 Teacher PD as part of the Challenge
After 11 exciting years, it has been decided that 2019 will be the last year that the NZIFST/CREST Food Innovation Challenge will be offered.
If New Zealand teachers are interested in providing a food science/technology product development investigation for their students next year, NZIFST is happy to help find a mentor from the food processing industry.
CREST is a great vehicle for problem based/inquiry learning, so any of the CREST programs will be a suitable option.
NZIFST will also offer Food Science/Technology career advice.
NZIFST and CREST thank all those involved, over the years, with the NZIFST /CREST Food Innovation Challenge, and look forward to working together on future possibilities.
For further information, please contact:
NZIFST rosemary@nzifst.org.nz
Source: Royal Society Te Apārangi