News
Published 3 December 2019
Golden Binaural Beats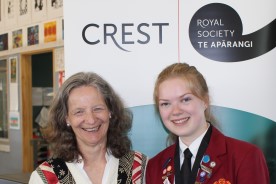 Gold CRESTer Samantha Brown with Professor Farrell
Samantha Brown, of Sacred Heart Girls' College (Hamilton), has been awarded a Gold CREST for her investigation on binaural beats.
Binaural auditory beats are what the listener hears when tones at two different frequencies are presented to the left and right ear. The listener hears a single tone, which equals the frequency difference between the two tones.
Anecdotal reports suggest that binaural beats can relieve stress and improve sleep by influencing brainwave patterns. However, there is little scientific evidence to support these claims.
In her CREST project, Samantha Gold investigated repeated exposure to a binaural beat to maximise the potential effect of the binaural beat, as many studies found acute binaural beats to be ineffective.
Samantha's results were not quite what she expected or had hoped for. Read her profile to find out more.
Samantha was presented her Gold CREST medal by Royal Society Te Apārangi Fellow Emeritus Professor Roberta Lee Farrell CNZM FRSNZ, who congratulated Samantha for her outstanding work and most deserved Gold CREST award.
Professor Farrell went on to say, "The Royal Society states that the Gold CREST requires students to expand their knowledge of specific techniques, language and analysis methods used in their area of research. Student achievement is assessed on creativity, perseverance and the application of knowledge.
"Samantha, I have read your report, and you have demonstrably achieved all of that with excellence. I wish this were submitted as a postgraduate thesis, as it demonstrates competence, creativity, analysis and supportive data and excellence in your reflection of personal development."
Samantha was mentored by Dr Logan Voss and Dr Rebecca Pullon. Her supervising teacher was Ms Fiona Murphy.
Source: Royal Society Te Apārangi