News
Published 8 November 2019
Watching waterways with Mountains to Sea Wellington
Students at Queen Margaret's College
CREST is delighted to announce the first recipients of a Wellington Mountains to Sea CREST award.
Year four and five girls in the Junior School at Queen Margaret's College, have been working with Mountains to Sea Wellington as part of their investigation "Sharing the Planet".
The students are examining human impact on the planet and actions that can be undergone to enact positive change.
Mountains to Sea Wellington has worked with the students to investigate environmental impacts on local water ways, in particular the Kaiwharawhara Stream which runs through Otari Wilton Bush.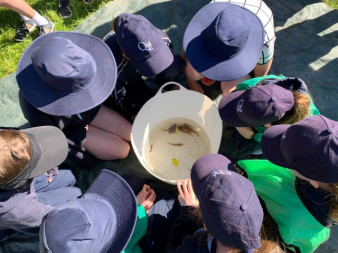 The students tested the water quality of the stream and identified the type of stream-life they found.
The students rated the stream an 8/10 in terms of stream health, as there were some evident impacts from humans and nearby houses.
The students are now in the taking action phase of their inquiry, and are hoping to make a positive impact on their local community through their findings and new learning.
Congratulations to the 52 year four and five Queen Margaret College students who have each been awarded a Primary Mountains to Sea Wellington CREST award.
Source: Royal Society Te Apārangi