News
Published 9 December 2019
PNGHS Navigational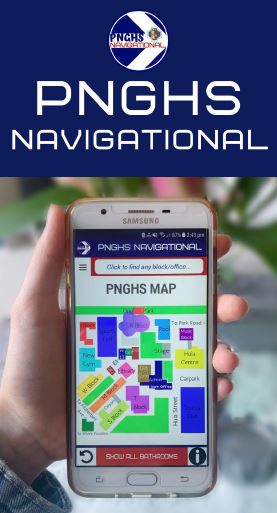 Palmerston North Girls' High School students Caitlin Naylor, Jordan Daubney, and Rachel Greenwood have developed an app called PNGHS Navigational.
The students' technology project was developed to assist students, teachers, whānau, guests plus anyone new to Palmerston North Girls' High School (PNGHS), with navigating in and around the school through using a digitised map, photographs, and written information.
At the start of each school year, the school had been printing out hundreds of paper maps for Y9 students. The three students determined that the majority of these maps were lost or crumpled by the end of the first week, yet, as they say, "as long as there are new people, there are lost people".
The students chose to create PNGHS Navigational as a more practical solution for the school community. Their surveys showed that new people to the school had found difficulties making sense of the paper-based navigation system. Also, creating the app would allow the school to digitalise, future-proof, and make the school map more accessible to students and teachers.
As most students have access to a mobile phone, the app could allow students to blend in with the crowd as they search for their classes. PNGHS Navigational would also be useful for teachers who are new or do not know the school aside from the building they work in, as well as for guests or parents coming to the school for events such as parent-teacher interviews.
The app goes into some depth and accuracy about how to find classes and stairs for example, by showing photographs, individual buildings maps, and providing any other handy information. The app also allows users to search for a place in the school (for instance, the sports office) and be shown what block it's located.
As PNGHS is an EnviroSchool with a core value of sustainability, the PNGHS Navigational app contributes by eliminating the amount of paper and printing resources the school had used to produce the former 'foldable' maps.
The team have continued to learn a great deal about the iterative process of developing a digital technology solution. They have learnt that although something may sound simple in theory, it may be a lot harder to complete in real life. They have also learnt about the importance of creating a realistic timeline, choosing a realistic process, and the value of sticking to the timeline in getting a project done without stress.
The students have been awarded a Team Silver Challenge CREST award for ensuring that new people to PNGHS will no longer be lost people.
For more information about the PNGHS Navigational app, take a look at Caitlin, Jordan and Rachel's Team poster.
Source: Royal Society Te Apārangi