News
Published 11 November 2019
Sustainable energy generation for use in electric vehicles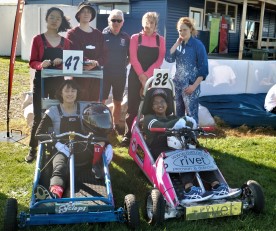 Six students at New Plymouth Girls High have been awarded a Team Bronze CREST award for developing and building an electric vehicle, as part of their unique Participatory Science Platform project.
The students received this CREST award for their energising efforts, excellent teamwork, cooperation, perseverance and investigative skills in this project.
The students' aimed to enter a vehicle into the Evolocity Electric vehicle competition, a nation-wide schools programme that engages teams of students in designing and building an electric vehicle, using an electric motor componentry kit. It allows members to develop skills in engineering, electronics and teamwork.
The team planned to build an electric vehicle from scrap parts. They collected metal scrap from the school's metal recycling desks and old bikes, and eventually settled on a trolley and forks cut from 20-inch children's bikes.
After a lot of welding and experimenting, the vehicle was completed. However, it had major flaws in steering and stability, so the trolley was abandoned and a new frame was built in compliance with Evolocity regulations. Named Cyclops, this vehicle is powered by a 1000W hub motor and 48V lithium batteries.
A second car, "Koopa King" was also completed and tested three weeks before being entered in the regional competition. This car has an aluminium frame and is powered by sealed lead acid batteries.
Cyclops was awarded the "most innovative engineering" award at Evolocity because it was the only vehicle that could reverse!
CREST wishes the team all the very best for the Finals on the 21st November.
About CREST and the Participatory Science Platform
The Participatory Science Platform project is a collaborative pilot between students, parents, teachers and the local community to investigate innovative and environmentally sustainable energy generation for use in electric vehicles.
Students who have completed a Participatory Science Platform project are eligible to apply for a student Participatory Science Platform and CREST Award. Find out how to apply here.
Source: Royal Society Te Apārangi