News
Published 30 August 2019
Te Rauawa O Te Pahī Programme and 2019 CREST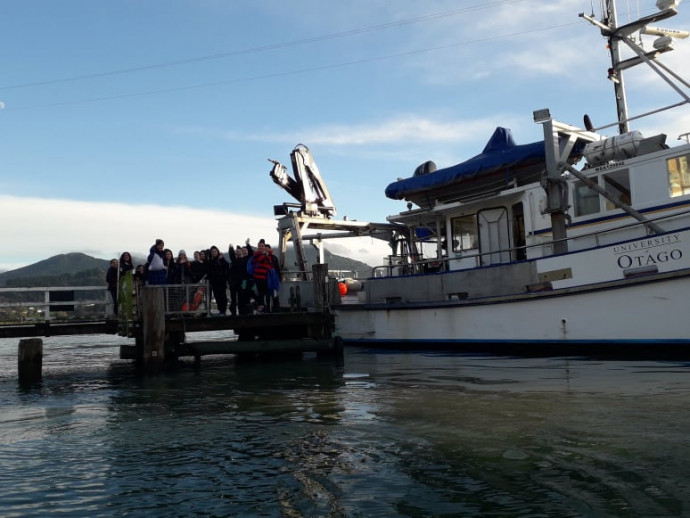 A wet and mucky introductory overview of the marine world whilst developing personal talents and thinking about future studies and careers.
Fourteen ākonga students have been awarded a Team Bronze CREST for successfully completing a residential programme for students from southern New Zealand secondary schools in a marine research project at the University of Otago's New Zealand Marine Studies Centre.
The students worked in teams and were mentored to develop their science investigation and communication skills in a Māori world context. Each team was mentored by a postgraduate research student.
The students experienced a wet and mucky introductory overview of the marine world. They dove into scientific thinking and processes during the day and were then challenged creatively during the evening activities at the marae and on Quarantine Island.
Congratulations to the students from Central Southland College, King's High School, Mackenzie College, Maniototo Area School, Otago Boys' High School, Queen's High School, St Hilda's Collegiate and Southland Boys High School.
About the Te Rauawa O Te Pahī programme
Te Rauawa O Te Pahī is structured around four key aspects, all of which relate to developing personal talents and thinking about future studies and careers.
Rangitiratanga (responsible oversight). Leadership alone cannot ensure a healthy future environment and sustainable kai moana, it needs all of us to take a responsible role in gathering knowledge, sharing knowledge and taking action.
Manaakitanga (ethic of caring and sharing) "Mana tu mana ora, mananoho mana mate". Empathy motivates, apathy demotivates. It is helpful to learn and share learning about why caring for the sea and our coastal environment is important and sharing other people's lives in science can help all of us.
Whānaungatanga (building relationships) "Nau te rouroa naku te rouroa ka ora ai te iwi". With your food basket and my food basket, there will be ample. The multi-dimensional and multi-disciplinary nature of marine science means teamwork and sharing knowledge is essential. The connection we all have with the sea and our dependence on its ecological services means it is important to build relationships between science and the wider community.
Kotahitanga (ethic of bonding) "He moana pukepuke e ekengia e te waka". A choppy sea can be navigated. Science and sustainable futures don't present easy or certain paths but engaging in a knowledge building community together can help us find our way through.
Source: Royal Society Te Apārangi