2013 | Morgan Christy - Jones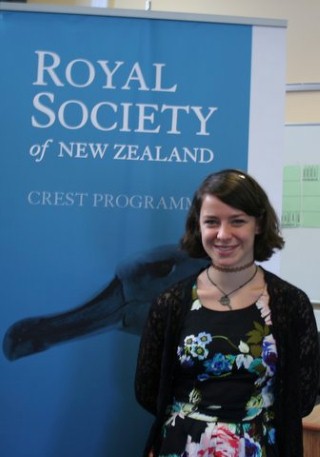 Morgan Christy-Jones was awarded a Gold CREST for her project:
"Tigers' Tails"
Mentor: Professor Steve Flint, Massey University.
Supervising teacher: Mrs Marietjie van Schalkwyk.
Morgan's Executive Summary states:
The aim of this project was to create a product using tagatose. Tagatose is a sweetener derived as a by-product from the production of cheese that is broken down from the lactose within the whey. Tagatose was recognised as a GRAS product in 2001 and has many unique properties. Unlike most carbohydrates it is low in calories, having only 1.5Kcal/g as opposed to sugar that has 4Kcal/g due to the fact that it is not fully metabolised in the gut so not all the calories are absorbed. Tagatose is also diabetic friendly, and does not promote tooth decay.
Research was conducted into major health issues for New Zealanders using Ministry of Health surveys.
Three major health problems affecting young New Zealanders that were directly related to diet were identified; Obesity, Type two Diabetes and Tooth Decay. These can all be attributed in some degree to diet and are all preventable. Food guidelines recommending that consumers cut down on fat, sugar and salt when buying or preparing food, and tips for reducing the intake of these substances are widely available. Consumer interest in the dietary impact of sugars and artificial sweeteners is increasing both in New Zealand and worldwide as people become more health conscious. This has led to a growing market for products seen to be healthy alternatives marketed as natural with few or no additives.
The identified health problems all have links to poor diet in childhood, so the brief was designed to create a product for children, using tagatose, to utilize its unique benefits. It had to appeal to both parents and children and address parent's dietary concerns. A survey of around 250 parents of primary school aged children was conducted in the Wellington area asking them questions about what products they purchased for their children and what they considered to be current and future health risks for their children. There was a 60% response rate to the survey and the results showed that 58% of the parents surveyed were concerned with child tooth decay as opposed to 25% of parents considering type two diabetes an issue for their child and only 22% considering obesity a current or future issue for their child. It was also found that 75% purchased snack food for lunch boxes. Comments on the surveys showed that parents preferred products containing fruit when choosing snack foods. Out of the health issues identified; diabetes, obesity and tooth decay, parents identified tooth decay as the issue that most saw as the greatest risk to their children in the present and future far more than obesity or diabetes. The research conducted led to the investigation of product concepts aimed at children that can be marketed as tasty, aesthetically appealing and tooth friendly.
As tagatose was to be used as a substitute for sucrose and only recognised as a 'generally recognized as safe' (GRAS) product in 2001, experiments had to be conducted to compare the physical qualities of each to see how tagatose would perform. These experiments compared sucrose and tagatose in saturated solutions, crystallization, the physical analysis of the sugars at controlled temperatures, boiling point of the saturated solution and a sensory comparison of sweetness. Although the tagatose behaved very similarly to sucrose during crystallisation, it also browned similarly at similar temperatures. However it was less brittle than sucrose, making it to be more suited to a softer product.
The appearance was a notable difference, tagatose being far more yellow in colour. literature on the subject states that tagatose is 9% less sweet then sucrose but in the taste test conducted the participants did not identify it as such, most stating they noted no difference between the samples and some saying they found tagatose sweeter. The results of the experiments aligned with the earlier research conducted into tagatose and gave a practical understanding of how the tagatose would behave in a cooked prodUCt. Confirming that tagatose could be suitable for a 1:1 substitution for sucrose and would not differ greatly from sucrose during the baking process.
To find a suitable concept, product investigations were conducted of current market products. Special claims on snack bars included mostly 'all natural', 'good source of fibre', and 'no artificial colours or flavours' but none of the products was marketed as 'dental friendly'. Biscuits and fruit based products appeared most popular and that allowed the opportunity to create a lunchbox product with a competitive advantage through utilization of the unique benefits of tagatose. Recipes for three concepts based on current market product ideas were trialled by conducting a sensory survey with students from Wellington High School. Of the three the most popular product was the biscuit and fruit rolls concept based on Tasti 'Fruitsies'. They had the most appeal and resulted in the decision to further develop this 'me too' concept and turn it into a unique product with a competitive advantage over other similar products.
Once this concept was identified work was conducted to develop the ideal recipe and production variables. The fruit jam had some issues with viscosity during cooking and so xanthan gum was added to address this issue. Cooking time and oven position was examined and optimised to ensure that the product did not crack or spread during cooking.
Sensory tests for the final packaged prototype were conducted with 20 parents and 16 children of Brownies and Pippins to assess the acceptability of the product. As this testing was with young children there were issues surrounding informed consent so the surveys and product were given to parents to take home and give to their children at their own discretion allowing them complete control over whether their child participated in this survey. The results showed a high percentage of appeal and acceptability of the final product named 'Tiger's Tails' with 100% the parent's surveyed saying that they would give this product to their children. The results from children were even more positive, no participants disliked the product and one third of the participants said the taste was pretty good with three children saying it was perfect.
The initial aims of this project were to create an appealing product that showcased the benefits of tagatose, containing real fruit that would appeal to both parents and children. The appearance of the product was indeed very striking with 44% of parents saying the product looked extremely appealing. The product contained apple and raspberry puree in the fruit jam and as evidenced in the survey it had a high acceptability with both parents and children. This product is tooth friendly due to the special properties of tagatose. This is an uncommon health claim and is marketed as such to provide a market advantage making it a competitive product. The packaging was developed taking the needs of the target market into consideration and reflected the merits of the product showcasing the unique aspects of the product.