Being nominated for Powering Potential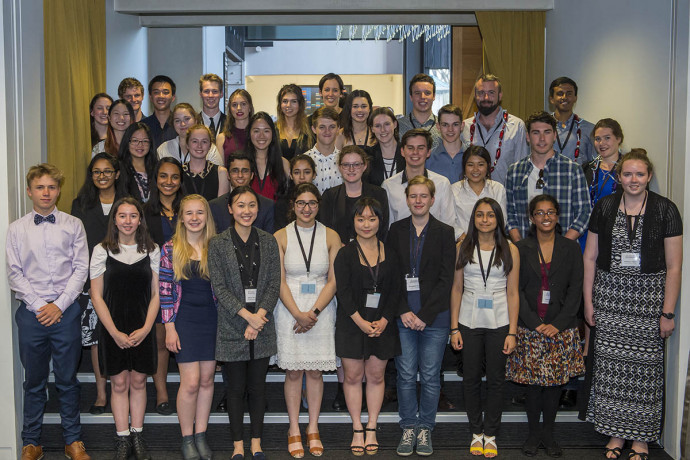 2016 participants
Learn how to be nominated for Powering Potential and expectations following the programme
To attend Powering Potential, Year 12 or Year 13 students must be nominated by their school. Up to two nominations can be made by each school. All costs are covered by the programme which is held in Wellington from 14 to 17 December (after breakfast)

Each entry must contain the following:
Nominator Form (to be completed by school)
Uploads/Powering-Potential-Entry-Form-2020-.docxthis must be completed by the student)
A video (maximum 3 minutes) with the title "Why me?" (This is the nominee's opportunity to talk about their passion for science and technology and what makes them a great problem solver, creative and able to think outside the square. Be creative with your video also. The judges already know about your scholastic achievements are because they have read your application so don't waste any more time on that. We want to see the real you!
Testimonial written by your HOD Science teacher or a teacher that teaches you any of your science subjects.
Copy of scholastic record to demonstrate science/technology subjects being studied and academic achievement (verified by your science/technology teacher and Principal)
Copy of birth certificate or passport to demonstrate New Zealand citizenship or permanent residency (verified by your science/technology teacher)
Judges
The judging panel are made up of passionate science and technology teachers and those in the education and science research sector.
When will you be advised if you have been successful
Student's will be advised of the judging panel's decision within two days after the panel meeting takes place in November. This year the selection panel will take place on 2 November.
Closing date for entries
Entries must be received by Wednesday 7 October.
Late applications will not be accepted.
Send your entries to:
If you are sending your entries electronically then please send them to debbie.woodhall@royalsociety.org.nz
If you are sending them by mail (please make sure you send at least 5 days before closing date) to Debbie Woodhall, Royal Society Te Apārangi, PO Box 598, Wellington 6140
If you are sending by courier please send to Debbie Woodhall, Royal Society Te Apārangi, 11 Turnbull Street, Thorndon, Wellington 6011
Powering Potential will take place in Wellington
The event will occur from Monday 14 December to 17 December (after breakfast)
After Powering Potential
It is always good to give something back. Participants who are selected for this all-expenses-paid event will be expected to spread the word about their experience at Powering Potential. You can decide how you do it but a couple of examples are:
Making a short video that we can use for promotional purposes and put on the Powering Potential website.
Talking to students at your school about your experience.
Talking at your local Freemasons Lodge about your experience.
Doing something within your community that relates to the Powering Potential theme.