Information for referees
You have been asked to provide a reference for an applicant applying for a Ngā Puanga Pūtaiao Fellowship. Your referee report is due Tuesday 31 October, 2023 at 2pm (NZST) Please find below information on the objectives of the Fellowship and the referee report.
Objective | Te Whāinga
The objective of the Fellowship is to invest in Māori and Pacific Peoples to establish careers in Science, Technology, Engineering and Mathematics (STEM) research and to grow the network of Māori and Pacific Peoples in the research, science and innovation (RSI) system. The Fellowship will facilitate Māori and Pacific Peoples who are future leaders in STEM research to enter into or progress through the RSI workforce, building a career foundation that enables them to flourish.
For more information on the fellowship the Terms of Reference is available in Appendix III in both English and te reo Māori.
Confidentiality | Mata
The contents of the referee reports are confidential in every respect. A referee report is submitted on the understanding that: (i) it will only be used in the appraisal process; (ii) it is confidential to the selection panels appointed by Royal Society Te Apārangi; and, (iii) that it will not be made available to the applicant or the public (this includes all comments).
Referee's comments | Ngā kōrero a ngā kaitaunaki
The referee reports plays an important part in assuring that the selection process selects applicants with the potential establish, re-enter, or progress their STEM research career. Referees are asked to comment on an applicant's abilities in a series of questions on various aspects of a STEM research career (see below). As applicants are eligible to apply for a Ngā Puanga Pūtaiao Fellowship over a range of years from 0-15 years post PhD, you must consider the Applicant in relation to their years of research experience. As an example, applicants that have only just finished their PhD, should be compared to other researchers at a similar level, and not be directly compared to a researcher with 7-8 years of post-PhD research experience.
Applicants are asked to nominate two referees of which at least one should be able to comment on their capability as a STEM researcher. Where relevant, applicants may choose to invite one referee that can comment on other aspects important for their career as a STEM researcher, e.g. working with communities, stakeholder relationships, demonstration of leadership, research service or any other aspects that may be relevant.
We encourage referees to engage with all the questions. However, if you feel unable or uncomfortable in answering any of these, please ensure you provide some commentary on the Applicant in the free text field at the end of this page.
Lastly, referees must indicate in what capacity they know the applicant.
The questions covering various aspects of a STEM research career have been added below for your information. However, you should write the referee report on the referee report template provided on the portal, which can be accessed with the emailed URL.
Research achievements and their potential to establish, re-enter or further progress their career in Science, Technology, Engineering and/or Mathematics (STEM) research environment.
Ability to design and execute a well-reasoned research plan (relative to opportunity), and where relevant, showing skill and expertise in mātauranga Māori and/or kaupapa Māori or other knowledge systems.
Ability to effectively communicate STEM research in writing and verbally to a variety of audiences (e.g., writing of funding proposals, research synopses, publications, or other written material, along with presenting at conferences, seminars, hui, wānanga, discussion forums, outreach events or other opportunities).
Ability for collaboration with peers and colleagues in their STEM field as well as researchers from other disciplines and, where relevant, has relationships in the area of research with traditional or local knowledge holders, tohunga, iwi, hapū, or other groups with whom knowledge exchange, transmission and development can occur.
Ability to exhibit or cultivate skills and attributes as a mentor or leader within their STEM research field. This could include, where relevant, a growing research reputation with iwi, hapū, and/or other groups and communities.
Any other comments about the applicants.
Note that you must additionally indicate in what capacity you know the applicant when you fill out the referee report template on the portal.
If you are concerned about a potential conflict of interest you may have with an applicant, please see Appendix I: Conflicts of interest.
If you are concerned about your suitability as a referee, please see Appendix II: Referee suitability
Online web-based referee reports |

Ngā pūrongo ā-paetukutuku tuihono

Referees will be emailed a Uniform Resource Locator (URL) link to a web-based portal to complete their report. The timing of this invite is determined by the applicant. Applicants have been asked to confirm that their chosen referee are willing to submit a referee report before the invite is emailed to the referee.

Please note that the referee report is due on the same date as the application. We are therefore unable to provide information on the proposed research project. If you wish to learn more about the proposed research, please contact the applicant directly.

Clicking on the URL will take you to the referee portal
Sign up to the portal
If you have applied via this portal before (e.g., for the Prime Ministers Science Prize), you will already have a profile. Please use this existing Username and Password. Otherwise you will need to sign up to the portal.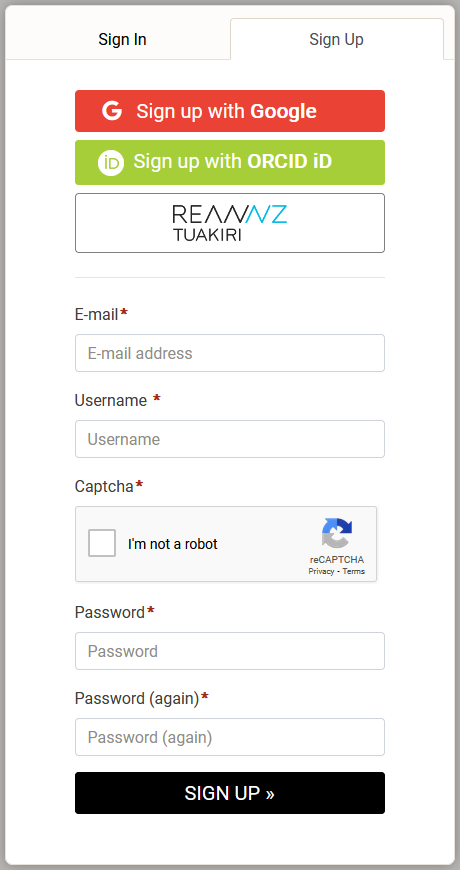 It is preferred that all referees sign up by adding or creating an ORCID ID, but this is not mandatory. Alternatively, you can sign up using a number of options using i.e. TUAKIRI; Google or create a new account.
To sign up with ORCID click the green "Sign up with ORCID iD" option and add your 16 digit ORCID iD and password.
To create an ORCID iD click the green "Sign up with ORCID iD" option and follow the link "Don't have an ORCID iD yet? Register now" and follow the instructions.
However you sign up, please do not change from that original sign up email address as this can cause issues further down the track
Personal Profile
Every person (including applicants and referees) using the portal for the first time must create a create a profile and must input at a minimum of the following:
Contact email address.
Agree to the Privacy Statement.
Organisation Affiliations: Primary place of employment or education.
Protection Pattern: Provide Protection Pattern settings.
Other questions that are asked for making a profile are optional for referees. There is no need to answer, just press "Skip and Complete" or "Next" through all unrequired sections.
Submitting your referee report
When you have finished all sections of the referee report, upload the completed referee report to the Portal. Then you must click "Submit" on the portal before it will be included in the assessment process.
Additional information | Ētahi atu kōrero
Additional information on the Ngā Puanga Pūtaiao Fellowships is available on the following website: https://www.royalsociety.org.nz/what-we-do/funds-and-opportunities/puanga/
If you require further assistance, please email: puanga@royalsociety.org.nz
or phone: + 64 4 470 5764.
Appendix I: Conflicts of interest | Āpitihanga I: Ngā take whai taharua
We want to make sure that there is a practically and procedurally fair process to apply to Ngā Puanga Pūtaiao. Therefore, we will aim to take into account real and perceived conflicts of interest between applicants, referees and panel members along the application and assessment process.
Referees should ideally not have a direct conflict of interest with the applicant, i.e. they should not hold a line of management role over the applicant at the proposed host organisation, and they should not be directly involved in the applicant's proposed research, as funding of the application would be seen to benefit the referee. An exemption to this rule is allowed for the supervisor of an applicant's PhD programme for applicants with their PhD conferred less than three years ago as discussed above. If possible, it is recommended to use referees you have not co-published within the last 5 years. However, it is recognized that this is inherently more difficult for researchers who recently completed their PhD compared to researchers at a later stage in their career, so this will be assessed flexibly and within context by the assessment panel.
It is expected and acknowledged that each participant in the application and assessment process will have a range of outside interests and obligations. We also imagine you will likely have wide-ranging whakapapa and whanaunga relationships across Aotearoa and the rest of the Pacific due to whānau, iwi, hapū, motu/island, community and research sector ties. We believe that the best approach to deal with potential conflicts of interest is:
for some relationships to be generally considered conflicted
to clearly outline, and declare, a perceived conflict as it arises
for all participants to be flexible in navigating potential conflicts.
for a clear record of the nature of any perceived conflict and the action taken in accounting for this to be noted/documented
For the purposes of Ngā Puanga Pūtaiao applications, a referee is generally deemed to be conflicted if:
They are a panel member in the current funding round.
They are the applicant's parent, sibling or child.
They have a low level of comfort assessing the application due to their relationship with the applicant.
Appendix II: Referee suitability | Āpitihanga II: Tōtika o te kaitautoko
A suitable referee will be able to comment on either or both of the following:
whether the applicant has the potential to establish, re-enter, or progress their career in STEM, and if they have the capability to develop a reasonable research plan with high likelihood to deliver research outcomes.
other relevant aspects of the applicants STEM research career e.g. working with communities, stakeholder relationships, demonstration of leadership, research service or any other aspects
To help in assessing your appropriateness as a referee, please consider the following:
Whether you know the applicant well enough to comment on them.
Whether you wish to act as a referee for the applicant.
Whether a conflict of interest exists in that you have a line management role over the applicant.
Whether a conflict of interest exists in that you are, or could be, directly involved in the proposed programme of research.
Whether the applicant is a relative or close friend.
If you choose to withdraw as a referee, please advise the applicant as soon as possible so another referee can be contacted.
Appendix III: Terms of Reference
Āpitihanga III: Tūtoho mahi