Heidi Kristono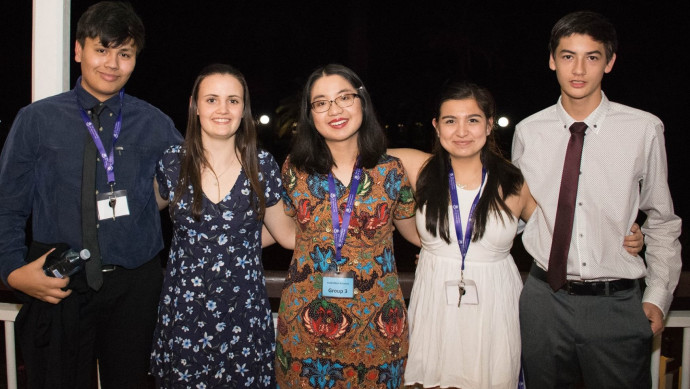 Heidi is third from left.
Heidi has just returned from Future Experiences in Agriculture, Science, and Technology (FEAST) which took place in Brisbane. She really enjoyed the experience and learning about university life.
Hi, my name is Heidi and I was selected for Future Experiences in Agriculture, Science, and Technology (FEAST) which took place from 1 July – 5 July 2018. I found that it was a truly refreshing and hands-on experience. The programme involved a range of activities from riveting anatomy activities and forensics workshops to fun bonding sessions such as a trivia quiz and semi-formal dinner. We were also introduced to the lifestyle and opportunities offered by the University of Queensland through living at a Hall of Residence, going to inspiring career sessions, and doing a tour of the Vet Hospital and the beautiful St Lucia Campus.
Overall, it was a very enlightening camp which I highly enjoyed - my only wish is that it lasted longer as I miss the people and activities so much. This opportunity would not have been possible without the Royal Society Te Apārangi or the Talented School Students Travel Award and I am very grateful for their support. I would also like to thank the Wellington East Parents' Association for helping to sponsor me. 
I attend Wellington East Girls' College and currently study biology, chemistry, physics, mathematics with statistics, and french. In the future, I hope to study medicine because I am interested in human health and would like to save lives. In addition, I like its vast possibilities when choosing what to specialise in.  
Outside of school, my interests consist of badminton, reading, french, and crafts such as crochet and card-making. I also enjoy being involved at school. For example, I co-run a STEM (science, technology, engineering and maths) club, and am part of a computer club and a choir as well as doing school badminton. On top of that, I am a prefect and tutor students in biology and chemistry. However, my utmost passion lies in science, because it answers my many questions as a naturally curious person, and I love how challenging but rewarding it is. Furthermore, it provides vast opportunities and innovative solutions. I also believe we will always continue to discover new things through science, so we can be sure that a journey through science will definitely be exciting.