Jessica Tater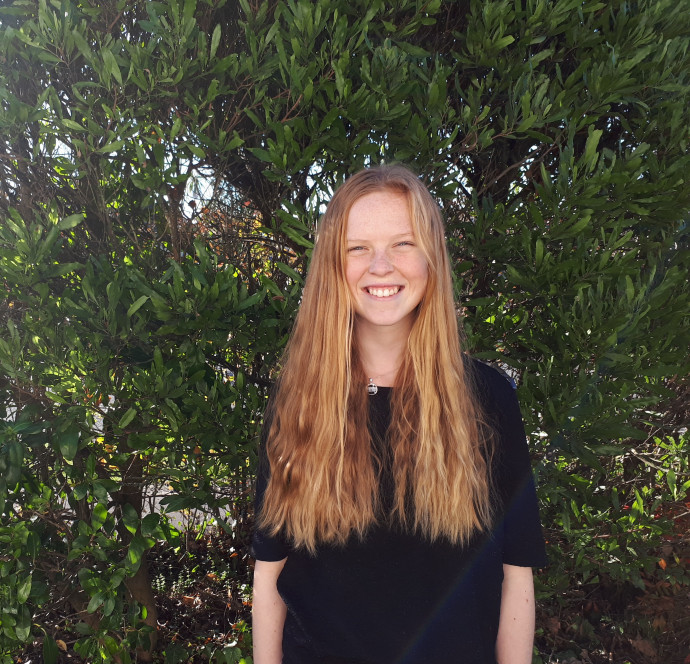 Jessica has a particular interest in both science and humanitarianism and has been selected by the Society to attend Youth ANZAAS and Jessica is determined to get the most out of the experience.
Hi there! My name is Jessica Tater. I have been selected to attend the 2018 Youth ANZAAS Science Forum in Melbourne. I am currently head girl of year 12 at Cashmere High School in Christchurch. I live with my younger sister Jorja, my Dad who is an arborist and also works in biosecurity, and my mum who is an advocate for a women's refuge. I have lived in Christchurch my whole life but have also visited Canada, where my extended family lives. This year I am studying NCEA Level 2 physics, biology, chemistry, mathematics, music and Level 3 English.
I have a strong passion for both science, inspired by my father, and humanitarianism, inspired by my mother, and I would love to pursue these passions in my chosen career. After high school, I intend to study a Bachelor of Medicine at the University of Otago and become a doctor that specialises in epidemiology. My dream is to work for Doctors Without Borders to respond to medical issues around the world and become involved in their medical research. Youth ANZAAS is truly going to be invaluable in my journey to achieve this dream.
Outside of the classroom, I am on the school debating team which won the Canterbury regionals this year. I play the bass guitar in various jazz and classical groups and was in a duo that won the Canterbury Smokefree Rockquest. Every week I attend an evening class at Te Wānanga o Aotearoa studying Te Ara Reo Māori. To balance my academics, I also have a part-time job at Mitre 10. In all of these activities, I prioritise different aspects of learning: in debating - an open mind, in music - persistence, in studying te reo - community, and in the workplace - interpersonal awareness. I intend on implementing all of these aspects during Youth ANZAAS to guarantee I get the most out of every experience.