Nicolas Sinnott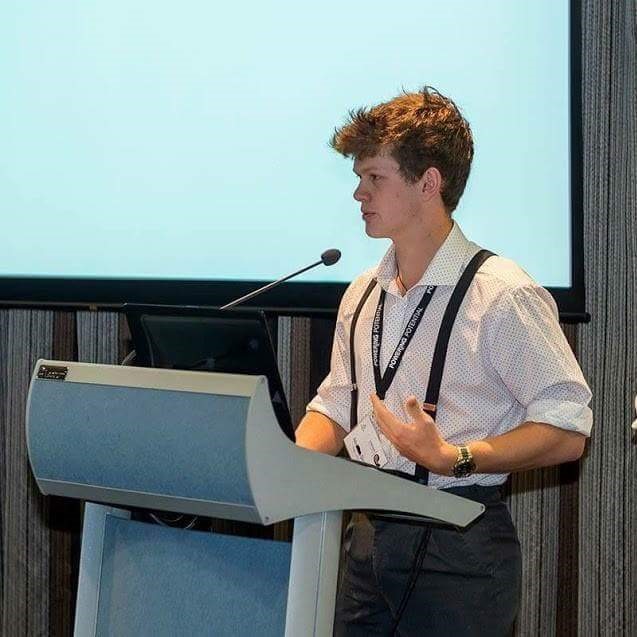 Nic Sinnott who hails from Central Otago but who boards at Otago Boys High School in Dunedin has just returned from Youth ANZAAS in Melbourne where he was part of a group that were treated to a lot of behind the scene tours of scientific organisations.
Ko Tongariro te maunga, ko Taupō-nui-a-Tia te moana, ko Tūwharetoa te iwi, ko Te heuheu te tangata. Ko Nic Sinnott ahau, he mangainga tuturu tēnei o Rana Kapereira o Ngāti Tūwharetoa. He Māori hoki ahau, ahakoa taku kiritea. Ko Tūwharetoa toku iwi, ahakoa I tipu ake ahau I te rohe o Kai Tahu.
Tēnā koutou katoa! My name is Nic Sinnott, I'm 17 and I board at Otago Boys High School in Dunedin, but I've grown up in the mountains in Central Otago.
I've always had a passion for knowledge and learning things, and so science came naturally. I have always put my hand up for science opportunities, camps, classes and wānanga alike. All of these efforts began to really pay off when I was selected to attend Powering Potential in December 2017. Here I made 39 new friends from all corners of Aotearoa and was mentored by some of the best minds around.
But it seems my journey with science really culminated with my selection for the Youth ANZAAS 2018 in Melbourne. Nine Kiwi secondary school students were selected to fly to Melbourne to attend this amazing science conference. The itinerary was packed full of behind the scenes tours of medical, commercial and defence research labs, tours of local universities, the Melbourne museum, and even a trip to the Australian synchrotron.
I met some fantastic and interesting people on this trip from all backgrounds but who all shared a love for the sciences and knowledge. I realised that these people I met are going to be the leading brains of tomorrow, and here I was teaching them to count to ten in Te Reo Māori! I truly cannot wait to see where all these amazing people end up, the same goes for all students on this profile page and to anyone that shares a passion for knowledge.
I am extremely grateful towards Royal Society Te Apārangi for helping students like me recognise their potential and to the TSSTA Fund for supporting us to travel to these events.  
Nō reira, tēnā koutou, tēnā koutou, tēnā hoki tātou katoa.