Nikita Raman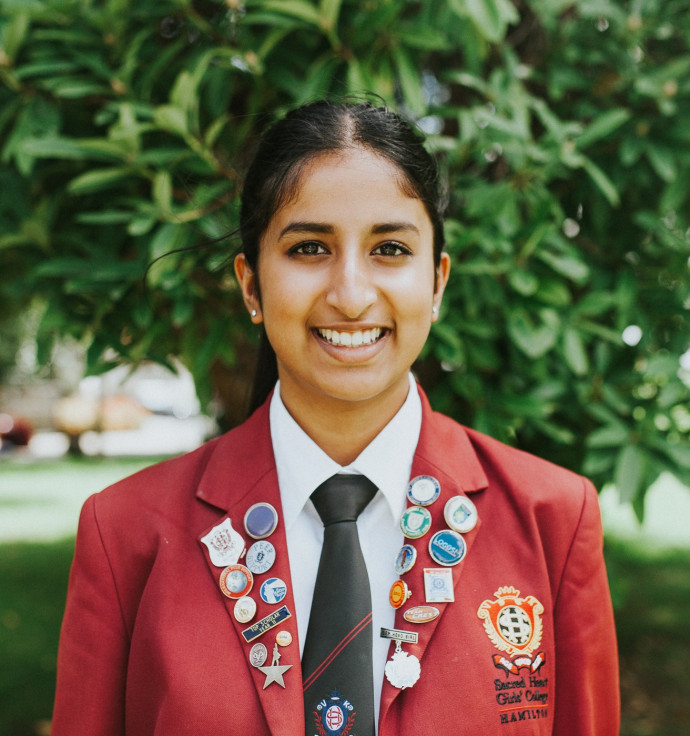 Nikita is Deputy Head Girl at Sacred Heart College in Hamilton and has been selected to attend the Asia Science Camp in Manado, Indonesia.
Kia Ora! My name is Nikita Raman and I am a zealous learner with a passion to make a difference in the world.
I live in Hamilton and am currently in year 13 and the Deputy Head Girl at Sacred Heart Girls' College. I am extremely humbled to have been selected by the Royal Society Te Apārangi to attend Asian Science Camp which will be held in August this year in Manado, Indonesia. I am excited to be working alongside like-minded students from all around the world to explore and further our knowledge in science.
At school, I study english, statistics, biology, physics, chemistry and religious education. I enjoy reading, baking, writing, and long walks on the beach. Due to the plethora of career pathways available I am unsure of what I will pursue next year at university however I am certain it will include some aspect of science. I am intrigued by all aspects of science, I love a challenge and thrive on the mental dexterity science and mathematics based subjects require.
Outside of school I love playing badminton, bowls and netball and enjoy playing the keyboard and piano. I strongly believe in giving back to the community and am involved in many voluntary projects with The Lions Club. I also help tutor younger high school and primary students. The joy that comes from helping others is truly like no other.
There is a famous Māori Proverb that has guided me in life, "He aha te mea nui o te ao. He tāngata, he tāngata, he tāngata." It means, "What is the most important thing in the world? It is the people, the people, the people." My passion for science stems from the want of being able to use the knowledge that I have gained to help and to give back to the people who have raised me into the person I am today and the person I will become.
The opportunity to attend an international science camp will be an invaluable experience for me.