Taya Nicolson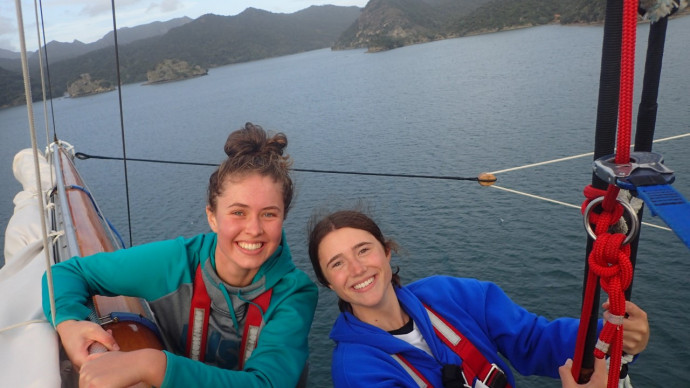 Taya will soon be travelling to the International Geography Olympiad in Canada. She loves studying geography which helps her to connect with the environment and fuels her love of exploring and natural curiosity.
Kia ora, my name is Taya and I live in Tauranga, part of the beautiful Bay of Plenty. I am the youngest of three children and am currently in year 13 at Otumoetai College. I study a wide range of subjects; geography, biology, statistics, sport science and health education. Passionate about sports and health I aim to live in alignment with these values as well as contributing to our school community. I achieve this by being a part of our senior sports committee and playing netball for our premier one team. In my spare time I enjoy horse riding, volunteering at the Tauranga Riding for the Disabled, hanging out with friends and family and tramping for my Gold Duke of Edinburgh award.
I am very honoured to have been selected to compete at the 2018 International Geography Olympiad in Quebec, Canada . This competition has years of history with the first iGeo held in 1996 in The Hague, Netherlands. Since then participation has risen exponentially from only five participating countries to 41 teams competing in last year's competition in Belgrade, Serbia. The aim of this competition is to encourage interest in geographical and environmental studies, draw attention to students' geographical knowledge, skills and interests and facilitate social interactions between people from different countries. Here I want to achieve to the best of my ability whilst experiencing every possible opportunity offered to me. This is an experience unlike what I have ever been exposed to and I am so thrilled to have been selected along with three other New Zealand geographers.
My passion for geography is something that has evolved though my love of travelling, adventuring in the New Zealand outdoors and interacting with people. I have been lucky enough to travel the world with my family and school, completing a house building project in Rosarito Mexico in 2017. This alongside participating in residential courses in New Zealand including the Spirit of Adventure earlier this year and Hillary Outdoors back in 2015 have further encouraged my curiosity and resolve to keep challenging myself both mentally and physically. Through the iGeo competition I hope to fuel my love of exploring the world and natural curiosity even more so.
In future I want to study a Bachelor of Health Science (physiotherapy), later travelling the globe to help people in less socio-economically developed countries, combining my passions of health and helping those in need and interacting in our incredible environment. Geography has helped me realise this passion through exploring the natural and cultural environments and how people interact and adapt so well to the constantly changing environment.
I am very excited to be attending iGeo and see it as an incredible opportunity to make connections with students from around the world, encourage my knowledge and desire to learn, create tight bonds with my fellow team members and inspire my future aspirations as I 'venture' into the world next year. I would like to say a huge heartfelt thank you to the Talented School Students Travel Award Fund for the support and generous sponsorship of my participation in this international competition, without this support my participation would not be possible.